No. 8, Volume 7, January 1st, 2005
Dear Family and Friends around the world!
We hope that you have all enjoyed a happy and peaceful Holiday Season with your loved ones.
Wishing you all a Happy New Year, we would like you to join us in our reflections of the past year.
(Pictures can be enlarged by clicking on them; resting the cursor on the picture will show the caption.)
WINTER 2004
Although we did not have a white Christmas in 2004, the snow did come to us on December 26 changing New Jersey to beautiful winter wonderland. Reflecting back on January/February 2004 we had a lot more snow back then, enough for a ski trip to Vernon, North New Jersey, where Per Ole, Krissy and Lin put on skis for the first time in their lives. Kirsten remembered it well enough (back from her late teens), however, a ski lift chair knocked her out leading to a trip to the local hospital for a concussion check-up.
ENRICHMENT PROJECTS
One of Lin's 7th grade enrichment projects this year was to be a witness in the trial of Mr. Wolf vs. Little Red Riding Hood. Lin played the role of the nurse, Patricia Haldana, treating Little Red's grandmother. Fortunately, her team (the defense) won the case.
Krissy's dream of becoming a judge came true in the mock trial of Jack and the Bean Stalk. After having been the prosecuting attorney and bailiff the preceding two years, she was chosen as the only 8th grader to be the judge of the 6th grade trial in October of 2004 and thoroughly enjoyed sitting in the mayor's chair in the Township of Ocean Municipal Hall.
Krissy's Type III 8th grade enrichment project explored the various types and benefits of Yoga. To teach her findings she created an instructional yoga video with sister Lin as the actress. Lin's Type III 7th grade enrichment project was titled "Obesity", describing the effects and treatments of adult obesity. Her project was presented to her 4th grade teacher, Mrs. Rodziewicz, at Wayside School.
GARDEN GUESTS
Throughout the year our ever changing garden has been visited by various creatures including our spectacular, resident birds, a peculiar squirrel believing he is half bird (when it comes to food), and two-hour visit by a duck couple who found our "pond" to be unsuitable for their purpose and left to find a better place to settle down.
KRISSY'S SURGERY
Throughout her life, Krissy has been frustrated with her "oozy scab," the peculiar birthmark on her right leg. In early spring she learned that the laser treatments she had been receiving to remove it, were useless and that the only way to remove it would be to surgically cut it off. So, on the morning of April 7th, Krissy left the house for the doctor, and returned a few hours later with six stitches, and no oozy scab (it was later analyzed and diagnosed as a ruptured blood vessel). It is healing very well and is leaving only a small scar.
EASTER
Easter was celebrated with a fun and 'challenging' egg hunt - for both children and adults - in our front and back yard. Naturally preceded by a luncheon with good old friends and traditional Easter servings.
SHORT TRIPS
Manhattan, New York City
In April we spent a weekend at the Hilton Hotel on Manhattan, NY, enjoying their facilities, shopping in the neighborhood (5th Avenue including the over-expensive Saks & Co.), and visited the national Girl Scout headquarters.
Providence, Rhode Island
The semi-annual Take-Me-2-Tea Expo in September brought us to Providence, Rhode Island, where the girls and Per Ole relaxed and watched movies, while Kirsten studied tea wholesalers and new trends in her new business.
BIRTHDAYS
Even if everybody knew it, it was still a big surprise for Per Ole that most of our friends, colleagues, and neighbors were waiting for him when he and Krissy brought home the cake (thought of as a cake for Kirsten's college ...) to highlight the celebration of his 50th birthday. May 2nd was a day with great partying, good food, and lots of entertainment. Per Ole's 50 year-old Barolo, bought in Copenhagen a long time ago, was opened and tasted. Unfortunately it was only drinkable, and had no special bouquet. Morale: enjoy life while it is still young.
On May 10th Krissy celebrated her 14th birthday. Birthday guests joined her in releasing their inner child through games and fun.
Lin was 12 years old on August 10th and had her friends over for a refreshing pool party.
CINDERELLA
The whole season Lin had been practicing for the ballet recital, Cinderella, especially since she had been chosen to play the leading role, Cinderella. After the summer vacation she had proven herself ready for the next big step - toe shoes.
SUMMER
A great weekend was spent with the Pirzads camping at the Cape May Seashore Campsites, Southern New Jersey. Lin and Per Ole manned the fire and were great 'fire starters'. Everybody enjoyed cooking over the open fire, swimming in the lake, and trips to the Victorian Cape May town.
ST. THOMAS, U.S. VIRGIN ISLAND
For the summer vacation this year the Kristensen family split up and went on each of their own trips. Per Ole and Kirsten flew to the Caribbean spending 10 days exploring the Danish colonial history at St. Thomas, Virgin Island. The honeymoon suite at Villa Blanca proved to be an excellent choice for Per Ole and Kirsten's romantic 15th wedding anniversary.
PEOPLE TO PEOPLE TRIP: AUSTRALIA, NEW ZEALAND, FIJI
Krissy took the trip of her life; she was chosen to travel to Australia, New Zealand, and Fiji with the student ambassador organization, People To People. After attending preparation meetings on the first Saturday of every month since January, Krissy and 44 other student ambassadors left for their "down under" adventure.
Some of the highlights were visiting the Sydney Harbour, interacting with Australian wildlife, luging in New Zealand, staying with a New Zealand family, and relaxing in the tropical paradise of Fiji.
LIN'S TRIP TO DENMARK
On July 7th, after Krissy left for her People to People trip, Lin went on her trip to Denmark, all by herself. She stayed with family (Grandma Hanne and Grandpa Ove) and friends (the Fischers, Uncle Joern, and Aunt Nina) and visited some old Danish buildings, museums and castles (Rosenborg, Amalienborg, Kastrupgaard Samlingen), and her Grandma Ulla and Aunt Iris in Elsinore and Great-grandma Tove who is now 94 years old and still lives in her own apartment in Ballerup.
GIRL SCOUT SOUTHERN ADVENTURE TRIP
As a dedicated Girl Scout, Krissy had always wanted to go to Savannah, GA, the birthplace of Girl Scouts and its founder, Juliette Gordon Low. So, less than a month after she returned from her P2P trip, she took a more local trip with our Girl Scout council, the Monmouth Council of Girl Scouts. On August 15th, thirteen scouts - five chaperons and eight girls - loaded into two vans and set off for their Southern Adventure road trip. In addition to seeing Savannah, Krissy visited several of the southern states and sights, including Busch Gardens in Virginia, the Dixie Stampede and Myrtle Beach in South Carolina, Fort Sumter in Charleston, a Gold Mine in North Carolina, and Endless Cavern in Virginia.
HALLOWEEN
October 31st is Halloween when most American children go Trick-or-Treating. Many houses are decorated, some more than others. Lin hosted a costume party for her friends and had lots of fun dancing, eating, and playing.
GIRL SCOUTS
On May 18th Krissy was asked by the Monmouth Council of Girl Scouts to be an usher for a Health Expo with a special speech by Christopher Reeve. Krissy and Caitlin Leech, a fellow Girl Scout, attended the expo and got to hear Mr. Reeve's inspirational speech about hope and perseverance. Even more so, it was very sad for us to learn about his death later in the year. Both Krissy and Lin earned their Girl Scout Bronze Award in the Fall of 2003 and were invited to a special award celebration in June 2004. Our group held a huge garage sale in the summer to raise funds for camping trips and tours. Many of the items were donated by a Long Island, NY, company using the freecycle network.
During the summer, Krissy showed her love for Girl Scouts by hosting a week-long "Cadette Dream" workshop, where attending Girl Scouts earned an Interest Project each day. The girls spent time learning about money management, health, exercise, games, and much more. Later, Group 303 served as "guinea pigs" for their friend Paulina's gymnastics workshop.
In the beginning of September, our Girl Scout group had a 3-day stay at the Seashore Campsites in Cape May. The girls learned how to cook over an open fire, practiced outdoor survival skills, and enjoyed sightseeing at the cape.
In September we had a day trip to the Liberty Science Center with plenty of time to explore all the activities. October brought us to Joe Palaia Park to promote Girl Scouts at the Ocean Township Fall Festival. The annual Ronald McDonald walk gave us a chance to meet with Ronald himself, presenting him with all the pull-tabs we had collected over the year. Due to the horrible hurricanes in Florida this fall our sister Girl Scout council called for help. The girls arranged a hurricane drive collecting toiletries and basic necessities for the victims in Florida.
As part of Lin's Bronze Project she adopted a spot at the Wayside Park which the group maintains and cleans for recyclable bottles, cans and trash. On August 25th the group was acknowledged by Major Larkin and Recycling Coordinator, Ms. Fieux, for their efforts. Mid-October our group participated in the Junior Encampment at Camp Sacajawea. It was a cold but fun experience sleeping in the tents, and our Cadettes were commended for their coaching of the younger girls while learning outdoor skills. Cooking pancakes on coffee cans was a delicious success.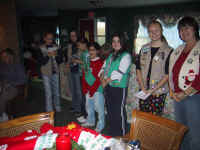 The last service project of the year was a visit to Wayside Retirement Home where the girls sang Seasonal and Girl Scout songs and made crafts with the seniors. The girls had decorated individual Christmas stockings with gifts for each resident. With applause we were asked to come back again soon.
Kirsten had her first chance to try her business concept teaching about tea at the Girl Scout Council Brownie program, Traditional English Tea. More than 100 girls had an educational experience dressing up with old-fashioned hats, playing tea bingo, making finger sandwiches and trifles, smelling, brewing, and drinking tea.
VISITORS
On April 5th the Danish Traveling Gymnasts, again, visited Brookdale Community College giving a spectacular and very talented performance. In August we were delighted with a visit by Uncle Amrit from Moen, Denmark. As usual he grabbed our tools and greatly helped around the house and garden with several projects :-). We did, though, have time to sightsee a bit as well. In September the Wagners used our residence as a base while exploring the South/East states in a mobile home.
Thanksgiving in November was celebrated with a long-awaited four-day visit by "brother" Nate and his wife, Parul from San Diego, CA. We had a great time together, cooking and drinking good wine, playing games, and sightseeing Philadelphia, PA. In December we were pleased by a nine days visit by cousin Jeanette and Jessiah from Mississauga, Canada. We enjoyed having family with us during the Christmas holidays and especially the girls enjoyed the movie nights in the living room with Jess.
FALL
For the 1st Ocean Township Fall Festival Lin decided to participate in the Apple Pie Baking Contest. She found a recipe (online), and made two pies entirely from scratch all on her own, entered them in the contest, had them tasted by the board of the Chamber of Commerce including the Ocean Township mayor, Mr. Larkin, who selected her pie as the #1 Mayor's Choice. (Apart from the pride she was shown on local TV and received a $50 gift certificate to the new supermarket, Wegman's.)
As a member of the Alumni Board of Directors at her former institution, Brookdale Community College, Kirsten has been busy editing their newsletter and participating in fundraising projects and promotions of the organization. The biggest project of the Alumni organization was the launch of the Buy-a-Brick campaign with the horse statue of Regret in support and remembrance of the college years. Kirsten is getting very close to the completion of her degree as a Bachelor of Arts in Psychology at Thomas Edison State College.
The fall called for traditional pumpkin painting which the girls enjoyed at a party hosted by the Brookdale honor society, Alpha Pi Theta. This year's 23 lb-Thanksgiving turkey was prepared by Lin, who is excelling as the chef of the house.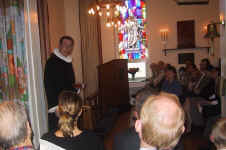 This fall we had a regrettable loss when our beloved neighbor, Clara Wassberg, passed away after many months of struggling. We said our goodbyes at the beautiful viewing and at the funeral at St. Anselm's Church in Wayside. We all miss her very much. Another sad experience was the shocking news that our highly appreciated minister at the Danish Seamen's Church in Brooklyn, New York, had been fired after 12 years of great service. Cries and complaints from hundreds of families in the congregation had no effect on the decision by the Danish board, so Torben Paulsen performed his last and very touching service on November 14th. As a way of showing our disagreement we are presently boycotting the church and activities, which means that we had to celebrate Christmas Eve outside the church for the first time in 7 years!
VISA PROCESS
Any progress in our Visa situation? Yes, a small, yet important, step in the right direction. On July 27th we received a notification that our local New Jersey Department of Labor had certified Per Ole's labor condition, meaning that he is not displacing a U.S. citizen from his job. The next step is to have the Regional Labor Department Office re-certify the ruling. We pray that his will happen in January 2005. This will enable us to actually apply for green cards - a process that will take another few years. Luckily Per Ole greatly enjoys his job at Flarion Technologies. On December 21st he was promoted Manager of RF Development for Terminals, which was celebrated with one of Kirsten's 9 bottles of champagne from the 9th day presents in the "12-days-of-Christmas" gift sequence which Per Ole creatively presented (yes, this totals 76 presents in the 12 days!)
DECEMBER
December is a wonderful month with lots of traditions to prepare for the big holiday, Christmas. As usual we picked our tree on the 1st Sunday in Advent at the Lincroft plantation, decorated the house inside and out, baked gingerbread cookies and pepper nuts, made marcipan candy, and had rice porridge on Little Christmas Eve. This year was an especially cozy time, since Jeanette and Jess spent the holidays with us. For the first time during our stay in the U.S. we celebrated Christmas Eve at home with another local Danish family, the Pipers (Vibeke, Jan, Sophia, and Isabella), as well as Shahin Pirzad and his mom, Sima, visiting us. Vibeke's parents, Niels and Ella joined us from Denmark, so we had a great big dinner table of 14 people. Traditional Danish Christmas dinner was served: shrimp roll, roasted pork with caramel glazed potatoes and red cabbage, and rice pudding with hidden whole almond. After singing and dancing around the Christmas tree - and around the property (Nu er det jul igen ...) we had a surprise visit by Santa Claus. He brought a bunch of gifts that it took us most the evening to open and enjoy. A genuine Christmas!
On Christmas Day, December 25th, the whole extended family left together with the Whitvers (Gianna, Chriss and their dad, Bruce) for an exciting reenactment of the Washington's Crossing in Pennsylvania over the Delaware River near Trenton, NJ. It was an exhilarating experience to stand on the exact ground where General Washington and his troops impacted the outcome of the American Revolution on December 25th, 1776.
A trip to Manhattan, NY, on December 29th gave us a chance to see the famous, huge Christmas tree at the Rockefeller Center as well as the preparations for New Year's eve at Times Square. New Year's Eve was spent at Lucy and Paul's in Lincroft with lots of friends, food, and disco.
This concludes a year with many great experiences and memories which we feel very fortunate to treasure. At the same time we also feel very sad about the destructions caused by the recent tsunami in Southeast Asia, and for all the devastating losses and homeless families. We hope that all of you will join us in a generous grab in our pockets to help the extraordinary international organizations in their tremendous efforts to restore life and safety in the affected areas.
Hoping that 2005 will bring happiness, safety, health, and prosperity for all of us, we wish you a
HAPPY NEW YEAR!
Lin, Krissy, Kirsten & Per Ole Kristensen
(hosted by SURFTOWN, only DKK9,-/month (US$2)