No. 7, Volume 6, December 27th, 2003
Dear Family and Friends around the world!
We hope that you have all enjoyed a happy and peaceful Holiday Season with your loved ones.
With a selection from our family album picturing the highlights of our year 2003 we wish you all a Happy New Year with warm wishes of health and prosperity to all.
Pictures can be enlarged by clicking on them; resting the curser on the picture will show the caption.
January
For Lin the year began with an Enrichment Fair. The students chose a special country to study regarding tourism, goods, and currency. Lin picked her birth country, China, and chose the Chinese New Year as her highlight. She sold homemade soaps made in moulds picturing Chinese lucky characters, and nicely hand-painted chopsticks. The theme of the annual Science Fair was past-present-future. Lin pictured how food was prepared thousands of years ago, today, and as pills in the future.
February
A fun evening, night, and morning was spent at the Franklin Institute & Science Museum in Philadelphia, Pennsylvania. The Girl Scout Troop learned a lot by trying out how things work. And what a special feeling to sleep in the middle of the museum and wake up to explore new chambers. The tour inside a heart was one of the favorite ones.
Did we get snow in New Jersey in February? Oh, yes! Pleasure for some, pain for others! We were snowed in for three days, and it took us seven hours to dig ourselves out of the driveway. Luckily it was during the Valentine weekend, so special moments were spent relaxing inside a nice warm house enjoying each other's company.
February 21st was the day of the annual Lip Sync Show at the Ocean Township High School. The three best friends, Geneva, Lin and Kayla had prepared a show to the lyrics of "Whenever, Wherever" by Shakira and did a great performance dressed in red, white and blue.
Maj did her best to live up to her No. 1 on her basketball t-shirt. The team did great and won top level in the Ocean Township basketball tournament.
March
March 2nd was "Fastelavn", the Danish Halloween, and as usual the Danish Seamen's Church in Brooklyn, NY, had prepared an interesting service followed by the barrel beating with lots of candy inside. Maj was dressed as a student in a private school (Harvard), Lin as a cheerleader, and Geneva as a baby.
After a lot of investigation, practice, and rehearsal, Maj participated in her first Enrichment Trial. The mock trial was held in the Ocean Township courtroom with the Enrichment students from the Township of Ocean Intermediate School. The trial determined the case of the State of Tennessee vs. Hansel and Gretel, on account of first degree murder of the alleged witch, Mrs. Salem.
April
Believe it or not; these pictures were taken on April 21st at 3 pm. This year we went directly from winter to summer - no springtime.
Late April we got a visit from Denmark: the girls' Godmother, Nina and her fiancée John joined us in a tour to the southern part of New Jersey, Cape May, to our capital Trenton, and to Princeton. Apart from great hours spent talking we also shared quite a few bottles of decent red wine.
May
On May 4th the Danish Seamen's Church in Brooklyn, New York, celebrated its 125th Anniversary. Many prominent visitors from Denmark visited the church and enjoyed some good Danish food and beer in the backyard of the church.
On May 10th, Maj officially entered adolescence. Her best friends were invited to a rainy pool party, but who cares, we're all good sports!
After many years of consideration, Maj finally convinced Lin to have her hair cut. 14 1/2 inches were donated to Locks of Love, an organization which provides wigs for children undergoing chemotherapy.
On May 7th the Wayside Chorus enthusiastically presented their Spring Chorus Concert. Lin (in the middle) and many other 5th graders did a fantastic job. Maj chose feng shui as her Enrichment project, and presented a whole How-To organize a home and office to get the correct flow of chi. It turned out to be a popular point of interest, and Maj has become quite a feng shui expert. Lin's Enrichment project was germs and dirt, explaining why it is okay not to over-clean.
Spring was the time for Kirsten to win laurels for lots of hard work at Brookdale Community College and in the Honor societies. As the President of Alpha Pi Theta, she won the Regional Distinguished President's Award and was honored as an All-State Academic Team Member by Governor McGreevey in Trenton, NJ. The Student Life Board invented a new award (to those who already had them all), "Best of the Best Award".
At midnight on April 6th the co-advisor of Alpha Pi Theta woke us up by a phone call from California to let us hear the screams from the 4000 people Phi Theta Kappa audience when Kirsten was announced international Distinguished Chapter President (as one of 25 out of 1100). Her Executive Board brought home more awards than ever and ended up with a place among the 100 best chapters and a Distinguished Chapter Award.
On May 18th Kirsten graduated from Brookdale with honors (as the third in Brookdale's 35-year history) with an Associate Degree in Social Science and an Outstanding Student award. In June she competed as a Beacon Scholar in Ulster, NY with her philosophy research paper and for Psi Beta, the Honor Society for Psychology, she brought home the first chapter award (the Ann E. Garrett Robinson College Life Award) and received the Carol Tracy Community Service Award herself.
June
Lin and her twirling team decided to do flag twirling this year to the music of The Washington Post. The Memorial Day Parade had to be moved into the school due to torrential rain.
On June 6th the Margery Carroll School of Ballet presented The Swan Lake and as usual Lin was a part of the show.
At the end of her 6th school year Maj won a 3rd place in the Continental Math League and a recognition in the New Jersey Mathematics League. This founded a new tradition of a dinner at a restaurant of your choice. At the same time she was selected to receive the Enthusiastic Reader Award as one out of nine students in New Jersey. As the proud parents of two very hard-working students Per Ole and Kirsten decided to send the girls on a plane to Canada to spend ten exciting days with the family up there. The vacation included days in Mississauga, Kitchener, Acton, and Niagara Falls. The family album doesn't hold any photos of the girl's trip, but they both have a scrapbook as a great memory of the wonderful vacation. Apart from all the great adventures both girls had, one left as Maj and came back as Krissy. As a teenager Maj decided to use her second name, Kristina, in the abbreviated form: Krissy, which she will hereafter be named as.
July
Finally, after five years of begging, the girls, as well as mom and dad, got season passes to Six Flags Great Adventure. Many days were spent in the Six Flags Theme Park in Jackson, and Per Ole eventually came and accompanied the girls on the latest and coolest attractions including the new Superman roller-coaster.
Our friend, Charlotte, from Denmark paid us a visit and enjoyed some good days in Six Flags as well. It was a great place to share with friends.
August
On August 10th Lin celebrated her 11th birthday with a Caribbean party and lots of friends. Later in August our family from Canada, Jared, Jess and Jeanette, spent some hot summer days with us on a tour to New York, in our pool, at the beach, and playing challenging games.
September
Krissy, Lin and Kirsten spent an inspiring day at the Grounds for Sculpture in Hamilton, NJ, enjoying art and nature in great combination.
School was supposed to start on September 3rd, however, already on the 4th the students were sent home for 10 days while the school was cleaned for mold. The Kristensens took the advantage of the extra "vacation" and went on a Get-Away to Philadelphia, Pennsylvania.
On Sunday, September 14th Flarion Technologies hosted its annual Picnic in Basking Ridge. As usual everything was lined up for a fun day - which even a torrential rainstorm could not ruin. The same evening the girls surprised Nina's mom, Zohreh with an unexpected birthday party.
Girl Scouting
Krissy and Lin did a lot of fun girl scouting over the summer with their friends. Krissy completed her Bronze Award painting fish on storm drains to prevent people from littering. Kirsten agreed to become a girl scout leader and was trained for both indoor and outdoor scouting. The fall program included badges, camping, hikes, walks and clean-sweeping. Lin and Geneva completed their Bronze Award together adopting a part of the Wayside Park.
Balcony Project
Per Ole's house project this year was the completion of Krissy's balcony before her first day of school in 7th grade. It almost happened. The 10-day mold delay helped him reach the deadline. Anyway, the balcony is finished, approved by the township, and taken into use by the happy owner.
October
On October 1st Kirsten began a tough full-time schedule of on-line courses at Thomas Edison State College on her way to an expected BA in Psychology in the summer of 2004. Lin started a new career as a babysitter for 1-year-old Christopher. She truly enjoys her job. Halloween was celebrated as an old Easter bunny (Lin) and a cow advocating poultry (Krissy).
November
The last day before our season passes expired the Kristensens spent a fun day at the Six Flags Wild Safari Park. Krissy fell in love with the kangaroos and decided to pay them a visit in Australia in the summer of 2004. She has just been approved as a Student Ambassador in the People To People program and will go on the South Pacific tour in July to Australia, New Zealand, and Fiji. Lin learned another skill this fall and found it fun to leaf-blow our garden. The most fun, however, was jumping in the pile after a great job was done.
December
The first weekend of December set us in a real holiday spirit when we got the season's first six inches of snow.
Krissy completed a very crafty book report, "Cut from the Same Cloth". Lin performed in the Intermediate school's Chorus Snow Ball, dressed as a medieval nymph.
A trip to Manhattan, NY on December 20th taught us just how many people actually Christmas shop at the last minute. One of our favorite Christmas traditions is the Swedish gingerbread cookie-baking at the Rodrigues. A drive-through the PNC Art Center's Holiday Light Spectacular enlightened the spirit for the girls and their friends.
A late fall project for Per Ole (and Christmas gift for Kirsten) was the installation of a remote controlled gas log in the fire place. The new convenient and much cleaner fireplace is a treasured spot for the Kristensen family: here on Christmas Eve.
Sure we are a family with traditions: "Little Christmas Eve" (December 23rd) is the day for 'risengrød' (rice boiled in milk). And for the 6th year in a row Christmas Eve was spent at the Danish Seamen's Church, NY, with old and new friends enjoying Danish Christmas dinner and dance around the big Christmas tree. We are now preparing to leave for Ottawa, Canada to renew our visas and to celebrate New Year with the family. If everything goes well we shall be back in early January with new visas for another year.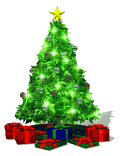 Happy New Year!

from the Kristensen family, New Jersey,
Lin, Krissy (Maj), Per Ole & Kirsten
Since our web-hotel wasn't available for publishing before we left for Canada, we now have a chance to catch up on the last days of the year. During our 1600 miles roundtrip with stop in Lake George, NY, Ottawa, Belleville, Toronto, Mississauga and Niagara Falls, Canada we had a great New Year with our Canadian family, Uncle Holger, Jeanette, Jess, Jared, Henry and Bernice.
On December 31st, we had luxurious lunch in the CN Tower in Toronto, the world's tallest man-made structure, 553 m.
That was our exciting year of 2003. We now have an extended visa in our passports and hope that 2004 will bring news about our Green Card situation, before the visas expire on January 31, 2005.