No. 4, Volume 3, December 31st, 2000
HAPPY NEW YEAR! Here we are again. Just as we promised last year. We are on the same site: www.kris.dk with a few up-dates too.
However, we do have some very hot and important news: This will be the last newsletter while Per Ole is working with Golden Bridge Technology - at least for now. Worries, stress and struggles became a little too much and Per Ole made the big decision to resign from the company on January 3rd, 2001. Right now Per Ole is trying to find himself (none of us has known him for the last six months due to very heavy workload and speculations), but several companies have already showed interest in his exceptional RF skills and we are considering new paths in our lives. The newest version of Per Ole's resume can be found on our homepage.
September this year Kirsten decided to work towards a dream of many years - getting a psychology degree from an American University. Her freshman semester at Brookdale Community College has just been accomplished with all straight A's (psychology, criminal justice, and sociology) and the spirit is high. Next semester will cover the American civilization, psychological statistics, and psychological life span development. With a little luck (a self study in math and computer skills) Kirsten should be able to graduate as an Associate in Social Science (Psychology) this summer. And thereby she is ready to continue for a Master's Degree at an appropriate University.
Both Maj and Lin are extremely busy at school. Both are in enrichment classes (special classes for gifted children), and are doing very well. They never complain about the extra homework in order to catch up on the regular classes, too. Though, it has been a little hard to find time and spirit for the Danish homework to follow the international classes with Danes Worldwide. However, during the Christmas holidays both girls have been able to catch up on half a semester's work and were pleased to seal the envelope with the assignments yesterday, ready to send to Denmark.
For the second time Maj went to the three-week Danish Summer School arranged by Danes Worldwide and enjoyed meeting new and old friends from last year, all living abroad with some relations to Denmark. We had planned on sending both Lin and Maj to the summer school next summer, however, since Lin will be one month short of 9 years when the school begins they rejected her. So we decided to let both girls have a summer in the U.S. and enjoy having visitors here instead. (A great number of the Peitersen's has announced their arrival in June).
Talking about travels, let's continue where we ended last year's newsletter. At that time we did not know what to do to celebrate the Millenium. A couple of hours surf on the internet ended up with Per Ole's placing a bid with Priceline.com just before going to bed. Waking up in the middle of the night Per Ole could not resist checking the result of the bid = four tickets to Jamaica! A picture tells a thousand words, however it should be mentioned that Per Ole had his dream come true: Celebrating New Year's Eve on a nice warm beach.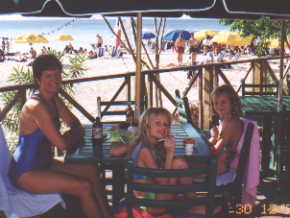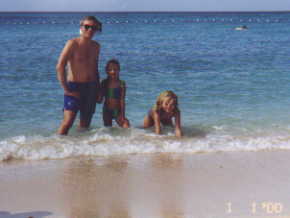 A challenge was to be the first to board the Air Jamaica flight on January 1st, 2000 - and verify the results of their Y2K efforts. However, everything was working normally, and everybody enjoyed the champagne on the trip back to a new year's strugggles.
In March our private home decorator, Aunt Nina, paid us another visit - long enough to plan for lots of changes and alterations in the house. A major decision was to use Danish wall paper (glasvæv). After checking the internet we learned that it would be cheaper to send Maj to Denmark to collect it instead of purchasing the material from Florida. Maj was happy to spend her Easter holidays in Denmark with the Peitersen's while being a courier.
Lin gracefullly continued dancing ballet and invited all of us to her class' summer performance on a nearby school in June, and at a nursing home during the summer.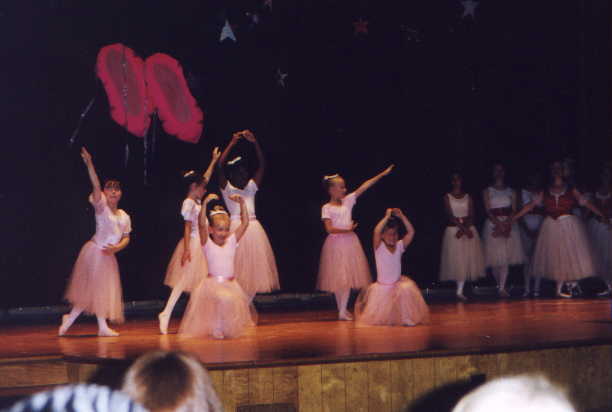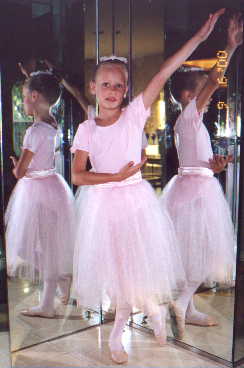 Unfortunately our outdoor spa had suffered during the previous winters, so a new arrangement went on the drawing board during late spring. After ordering a new spa unit (above ground) the hole from the old in-ground needed concrete covering. Since no professionals wanted to do such a little job we had to experiment ourselves and soon became experts in concrete work. The spa is still good - we checked it on Christmas Day - with the beautiful snow covering the surroundings.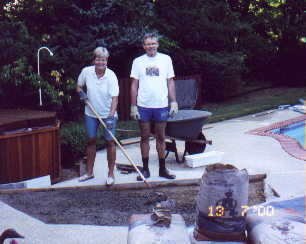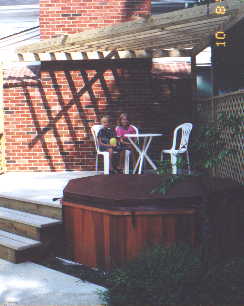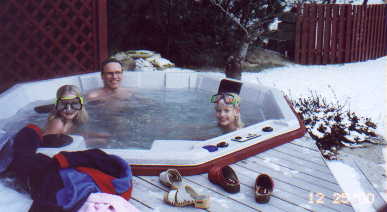 In July we had the pleasure of having all the Peitersen's visit us. However, to ensure that they did not like our life too much, the weather turned out to be the worst two weeks of the year with lots of clouds and rain. (and after they left we have not had two days in a row with rain or clouds). Lots of time was spent shopping in malls, on garage sales, etc.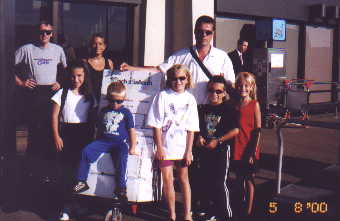 To keep up with our tradition we visited the Cayman Islands in August for the second time and enjoyed a wonderful week. This year we were all convinced that one week was too little time to check on all the fish etc. so next summer might be extended to two weeks. Our hotel this year, Turtle Beach Villas, was the perfect place and we spent most of the time -day and night- on the beach - right outside the door.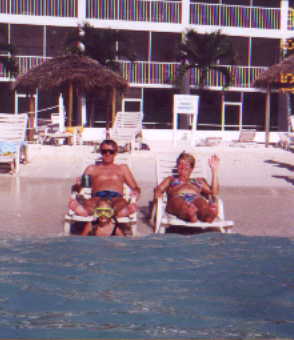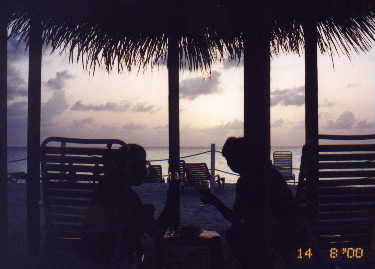 In August Lin and Maj started something new for all of us: cheerleading for the American football players at the local Ocean Township Pop Warner team. They both liked doing the cheers, the shows and the good friends they met.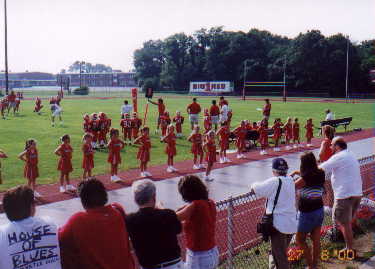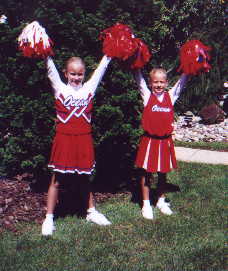 Maj also started gymnastics every Saturday, and both girls are still Girl Scouts with high goals of being top sellers of nuts and cookies for fund-raising. At the annual nut sale in November both of them reached maximum and got all available prizes (tiny, small, medium, and large lion (stuffed animals), t-shirt, and a 40$ creative book free of choice). Thanks to all of you who helped them buy nuts and cookies!
In September Kirsten made a quick 4-days-tour to Denmark to celebrate Great-Grandma's 90th years birthday on September 28th and visit grandma (mormor) in Elsinore. They are both doing good all things considered. Grandma is waiting for a room at the nursing home for dement people in Elsinore, since her Alzheimer's Disease is progressing. Grandma and Grandpa (farmor og farfar) finally decided to sell their big house and buy a brand new apartment in "Kastruplund" (under construction). They will move in August 2001.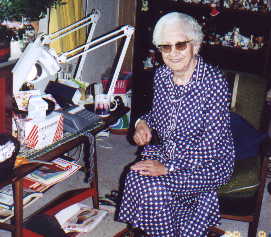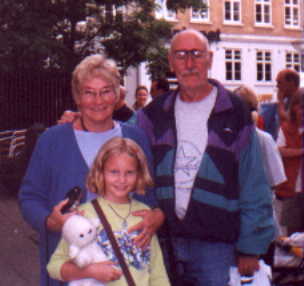 In the little spare time left from college studies Kirsten helped Yvonne and the Swedish organization SWEA crafting for their Christmas bazaar. However this fall a goal from last year was fulfilled, since Yvonne and Kirsten also had their own craft booths at three fall craft shows. Many hours were spent crafting houndreds of angels to sell.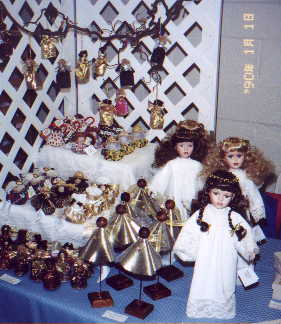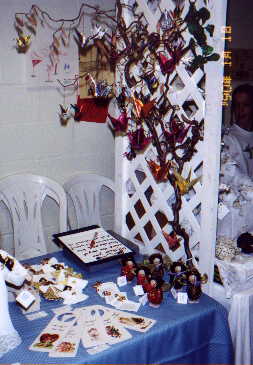 Our Thanksgiving was celebrated with good friends, Ulla Molbo from New York, and "aunt" Connie from GBT and a 25 lbs huge turkey. Of course we could not finish the whole turkey so our neighbors, Clara and Bob Wassberg next door, and Yvonne and her daughters, Amanda and Paulina, came for lunch the following Saturday to help us finish the turkey salad - and many other Danish/Scandinavian delicatessen.
In November the United States had their 43rd presidential election. What a show! As usual the approach of problem solving was "bring your lawyer". The outside world had their reactions, and lots of e-mail jokes circulated on the internet.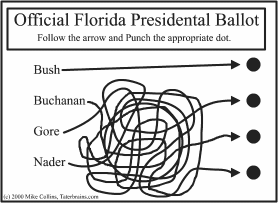 After the decision was made, President-elect George W. Bush has selected our governor Christine Todd Whitmann to head his Environmental Protection Agency (EPA). Who wants to bet on our next president? Our choices are either Colin Powell, Hillary Clinton or Christine Whitmann .....
In December we took advantage of Kirsten's study card and got four very reasonable tickets to a performance with the Vienna Choir Boys (Wienersängerknaben) at the fashionable New Jersey Performing Arts Center, NJPAC. It was a wonderful experience.
Other December chores were the purchasing of a fresh self-cut Douglas fir, Christmas tree at the Lincroft plantation (close to Brookdale College) and a visit to the local fire station where Santa Claus met us with breakfast and time for pictures.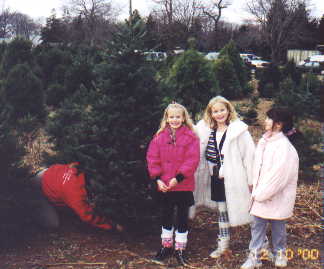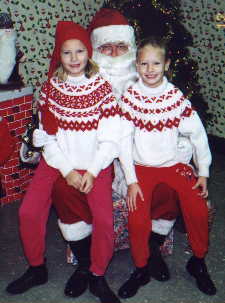 As usual we celebrated Christmas Eve in the Danish Seamen's Church in Brooklyn, New York, beginning at 4 p.m. with a Christmas Service, followed by a very traditional Christmas Dinner (flæskesteg og rødkål) and dessert (ris a'la mande). This was our 3rd year in the church and we feel like having a big family celebrating the evening with 50 Danish people.
The rest of the holidays have been spent in the best Christmas spirit - enjoying presents, good food and wine, relaxing and discussing our future. One thing we all agree upon is: Our home at 2 Pal Drive is wonderful, and we all feel very good and happy being in the U.S. Yesterday we were blessed with more than a foot of snow (35 cm - and more than we had the last three years combined!), and our winter wonderland looks more than beautiful. You may see more pictures here.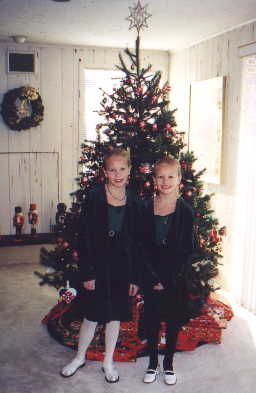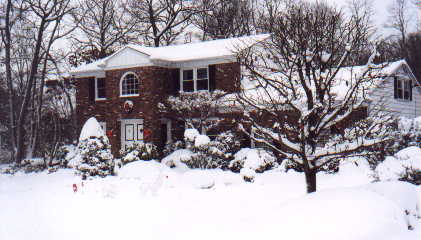 Very soon this year - the first in the Millenium - will be replaced with another brand new year - full of possibilities and challenges. We are ready for it and wish for all of you that you are, too.
HAPPY NEW YEAR
with all the best for a
prosperous, happy and joyful year!
Love,
Lin Pernille, Maj Kristina, Per Ole & Kirsten
Last update 08-Jan-2009