New Jersey News
The Ocean Chronicle - No. 14, Volume 13, January 16th, 2011
Happy New Year 2011!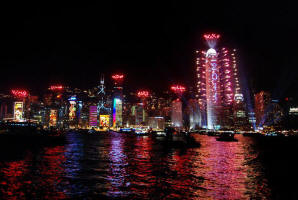 (Pictures can be enlarged by clicking on them)
As we now enter the second decade of the millennium, we know that a good amount of our friends have joined Facebook and are friends with us Kristensens. Thus, we assume that most of you have been able to follow the events of our family throughout the year. In an attempt to not be too repetitive, we've decided to make this year's newsletter more of a highlights version of the year – if you'd like to see more details, please feel free to check our Facebook photo albums for many more photos from the year!
Links to the Kristensens on Facebook: Per | Kirsten | Maj | Lin | Tea4U
In many ways, this has been a year of repeats. As Lin joined Maj at college, she repeated the same milestones – senior prom, high school graduation, getting a full scholarship including room and board to Montclair State University, moving into a dorm, making new friends, and completing the first semester of college. Kirsten and Per visited Denmark several times this year, and Maj went to China and Hong Kong first in the summer by herself, and then again this winter with the rest of the family. Per's new hobby – "fliertalk" – brought him to Chicago twice, first time with Kirsten. A later trip gave Per the opportunity to visit the Boeing factory in Everet, WA on a Star Mega Go trip.
Three cups of Tea leading to Stones into Schools
On January 27 Kirsten shared her 4th cup of tea with Greg Mortenson who finally came to Brookdale to receive his honorary degree. His new book Stones into Schools became significant for the Brookdale school project, since Greg asked Kirsten where she wanted 'her' school. They decided on Pakistan and in May the "Knowledge is Power - Three cups of Tea" project turned stones into schools when the Brig Agha School in Qurmara was begun.
Spring Break - Denmark
For Pre-Easter, the family held their annual Easter brunch and Easter Egg Hunt with family friends. In late March, Kirsten, Per, and Lin went to Denmark for Farfar Ove's 85th Birthday brunch. Lin brought along two best friends Gianna and Jocelyn, who had never traveled out of the country before, and showed them around her homeland.
Skills USA
In May, Lin competed in the annual Skills USA State Competition for the second time and won first place in Photography. Her school, Communications High School, also took home a dozen gold medals and her friend Gianna took home first place for Broadcast.
Maj's Trip to China
In late May and early June, Maj ventured to China with a student group known as the International Scholars Laureate Program (ISLP). For two weeks, she learned about diplomacy and international relations while touring Beijing, Xi'an, Shanghai, and Hong Kong. Before heading home, she spent a week with Aunt Connie, Per's former colleague and our dear family friend. Maj spent time with Connie (shopping and exploring Guangzhou) and her daughter, Nina.
Lin's Graduations
Through Kirsten's membership of Shore Women's network she got involved with the local American Red Cross and was asked to sit on the Gala committee. Here she met photographer Andrei Jackamets who agreed to be Lin's mentor for her high school mentorship program. A successful partnership allowed Lin to graduate to a paid employee over the summer.
After 11 years as a Girl Scout, Lin graduateed and completed her Gold Award, the highest award possible in Girl Scouting, for which she made her own magazine, Spot of Tea (can be viewed/purchased online from MagCloud to benefit Greg Mortenson's Central Asia Institute). Kirsten decided to take a break from Girl Scouts after 7 years as a troop leader including 2 as a Service Unit Manager.
Lin also graduated from ballet after attending Margery Carroll School of Ballet for 12 years. As the final right of passage in high school, Lin attended her Senior Prom with her boyfriend Bo and best friends Gianna and Meghan. Finally, on June 22, Lin graduated from her second home of 4 years, Communications High School.
Summertime
In July, one of Lin's photographs was chosen to be published in Photographer's Forum Magazine's Best of College Photography 2010. This is the third time Lin's work has been published, in addition to Tea: A Magazine and HIM: Hong Kong's Most Popular Men's Magazine.
In December one of her photos was used on the front cover for a college textbook about American History published in Germany.
On the Fourth of July, the Kristensens dressed up like 'Little Monsters' and ventured down to Atlantic City to experience Lady Gaga's Monster Ball Concert, enjoyed by all generations.
In July, the Kristensens began a new summer tradition by celebrating National Tequila Day. Maj assumed the role of bartender, creating several drinks for the family thorough the day: Tequila Sunrise, traditional tequila shots, Margaritas, Raspberry Sparklers, Long Island Iced Teas, and many more!
Milestones in August
On August 10, Lin had her 18th birthday. With her newfound adulthood, later that month she went skydiving with her boyfriend Bo and got a tattoo on her back of her Chinese name "lotus" to symbolize that she was born in Hong Kong.
A week before returning to school, Maj had her five wisdom teeth removed (she's too wise for just four).
Before the girls went off to college, the family made a road trip down to North Carolina to visit Big Brother Nate and his wife Parul and their new baby boy (and the Kristensen's new godson) Noah.
In late August, Lin left the nest and moved into college. She now joins Maj at Montclair State University where she is studying Photography and Business and Maj is studying Business Management and Marketing. Two of Lin's best friends, Meghan and Jocelyn, also attend Montclair.
Autumn
One of the great perks of being a college student is being able to get great deals on Broadway shows. In September, Lin and Maj invited Kirsten and Per to see American Idiot along with their friends. Later, Kirsten and Maj enjoyed Wicked on Broadway.
Tea4U - The World of Tea
- The White House in Oakhurst
After a year of hard work, Kirsten published her first magazine – The World of Tea, Focus on Taiwan. This 60-page publication became a family collaboration: written by Kirsten based on her trip to Taiwan in 2009, designed by Maj, and photo editing by Lin (available for browsing/purchase at MagCloud). Since its start in 2005 Tea 4 U has grown and in spring Kirsten and Per decided to look for a property to open a tea house and tea store. The perfect location was found in May and a bid was made for a public auction on a hundred year old house in Oakhurst. After some complications the auction was won in November and the deal was closed on December 9. "The White House in Oakhurst" on 45 Monmouth Road is now a work in progress and the opening is greatly anticipated by local customers.
A trip with friends from Shore Womens Business Network brought Kirsten to visit TerraCycle in Trenton and to meet the CEO and 'king of recycling', Tom Szaky. After completely 'greening' the family, Kirsten now works on a full sustainability concept for Tea 4 U and The White House in Oakhurst.
Winter
For the first time since the girls left for college, the Kristensen family was united for Thanksgiving and was blessed with a great celebration at neighbor Jay and Ellen's and with a luncheon at home with good friends. The annual Christmas Bazaar at the Danish Seamen's Church in Brooklyn, NY made another reunion, and eventually holiday break with a traditional Danish Christmas Eve at home and Christmas Day at Gianna's family before the Kristensen's took off from Newark in the increasing snow blizzard for an 18-day exploration in Hong Kong and China.
New Year's in Hong Kong
After planning to return for 16 years, the Kristensen family finally returned to Hong Kong to revisit Lin's birthplace and our former home. We met up with Aunt Connie and Nina on the Hong Kong Island and later spent a week with them in their hometown Guangzhou, China after the new year. The younger girls enjoyed a girls night out barhopping in Lan Kwai Fong. The whole family waited at Victoria Harbour for 7 hours to be first in line to see the spectacular 2011 Countdown Celebration and rang in the new year Hong Kong style.
We are now back in the U.S. loaded with memories from our Asian adventures and ready to make 2011 another spectacular year.
We wish you all a joyfilled, successful, and healthy 2011!
Lin, Maj, Kirsten & Per Ole Kristensen