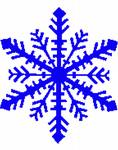 New Jersey News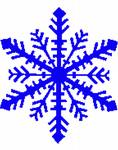 The Ocean Chronicle - No. 11, Volume 10, January 1st, 2008
Welcome to a brand new year - 2008 - destined to be a great year according to the Chinese superstition (eight meaning prosperity). Before we say goodbye to 2007 for good, we invite you to share our highlights of the year.
(Pictures can be enlarged by clicking on them; resting the cursor on the picture will show the caption.)
Winter Wonderland
Winter came late in 2006 - actually just into the new year 2007. The end of January was beautifully covered in snow. A much more unusual winter landscape was created by an ice storm on Valentine's Day creating a spectacular crystal-like world - beautiful but very dangerous, causing many trees and branches to break and fall. A huge amount of water piled up in our back yard and actually formed the perfect ice skating rink. Lin hosted one of her famous 'part-ays' for her friends and fellow students from Communications High School (CHS) to celebrate Valentine's Day.
Goodbye to Mormor
On January 24th Kirsten's mom, Grandmother Ulla (mormor) died after 14 years with Alzheimer's Disease, at the age of 78. Kirsten went to Denmark to take care of necessities and had a chance to meet with family and friends. Naturally Great-grandmother Tove (oldemor) got frequent visits as well, and enjoyed Kirsten's company, although she was getting more and more weak with her 96 years.
Goodbye to Oldemor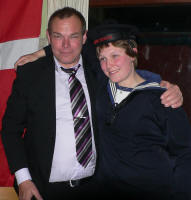 Exactly a week after Kirsten returned from Denmark, she received a call that Great-grandmother Tove had passed in her sleep, on February 20th, at 96 years old. This time both Per Ole and Kirsten arranged to go to Denmark. This gave us a chance to spend time with friends - Lydia and Jan Haugsted - Charlotte and Roland Lyngvig - and Flemming Wagner - in our Ascot hotel apartment in Central Copenhagen, to see our family, and attend Jan Fischer's 50th birthday. Jan's biggest surprise gift was a visit from his daughter, Charlotte, who had gotten a few hours of special shore leave from the sail ship, George Stage, to be at her dad's party.

Spring Break in San Antonio, Texas
For Spring Break this year, the family took a trip to San Antonio, Texas, the American Venice. Easter was spent with walks along the river, sightseeing, shopping, and a short trip to Nuevo Laredo, Mexico. In honor of Easter, Lin refused to celebrate the holiday without an Easter bunny, so she created her own using fruit from the hotel room. She took a picture of her creation, and the photo ended up being selected for "Explore" on the flickr.com website.
Spring
Lin decided to throw a surprise party for Nina's 13th birthday - a night of fun with her friends to celebrate the beginning of her teen age. That same weekend, Nina had another surprise party, thrown by her family. Later that month, Krissy and Lin went to Trenton for a Girl Scout program to learn about conflict resolution at the capitol building. They are both still active in Girl Scouting, in their eleventh year. This year the Ocean and Monmouth council merged to Girl Scouts of the Jersey Shore.

Knowledge is Power - Three Cups of Tea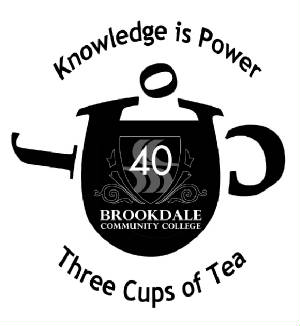 The Brookdale service project "Knowledge is Power - Three Cups of Tea" spearheaded by Kirsten really took off in 2007, especially after a few of the committee members went to Philadelphia on January 31 and met Greg Mortenson in person. Getting the Humanitarian Award from the Brookdale Alumni Association, Greg made a promise to visit Brookdale. May 10th was the official Greg Mortenson Day in Monmouth county and hundreds of people were honored to spend the day with Greg. College president Dr. Peter Burnham arranged a special TV interview of Brookdale Views with Greg and Mrs. Eugenia Lawson, Superintendent of Schools. A colloquium in the evening brought answers to many questions of the work of Central Asia Institute and before the evening was over, Greg had received $23,000 towards a school in the name of Brookdale in Afghanistan/Pakistan. Over the Fall more fundraisers were arranged, and by the end of the year, the committee was proud to announce that the project had reached $30,000 out of the $35,000 for the two-year project ending in May 2008. (Greg Mortenson Day photos by Vicki DeVico.)
Lin's New Room
The family spent a whole weekend hard at work to finish Lin's room reconstruction as a surprise, while Lin spent the weekend double-sleeping over Nina's house. After several years of anticipation, Lin walked into the completely unrecognizable room, with no more bulky blue and brown furniture. The hardwood floor was then refinished, and the room was painted bright yellow and completely restocked - in the most fashionably teenage design - with furniture and decor from IKEA.

Krissy turns 17
On May 10th Krissy woke up as a 17-year old eager to pass her driving test. Proving her skills as a good driver, she proudly returned with a driving license. Per Ole bought a 'new' Acura TL (2004) so that Krissy could take over the good, old Acura Legend. Her birthday was celebrated with a traditional tea party for her dainty friends and their teddy bears (she has plans for a Girl Scout camping trip to celebrate her 18th birthday, by request of her ever-young friends).
Summer
We spent summer at home this year to supervise the major projects in the house/garden (see below). Lin finished her ballet season with the recital of "Raymonda" and later went off on a week-long career summer institute at Rutgers University and came home with many new friends and a variety of career ideas. Mie Wagner came to visit us for two weeks and got a taste of life in America including a visit to one of our favorite locations, Grounds for Sculpture. In July, Krissy finally did something she'd wanted to since the time of the Spice Girls - get a nose piercing! Though the picture may make it look painful, she maintains that "it only hurt for about two seconds and then it was all good." In August, Lin and Krissy went to New York City to see Wicked on Broadway, an experience they still talk about to this day. The girls once again got season tickets to the Six Flags amusement park, and enjoyed many fun-filled days of thrills and roller coasters.
Lin turned 15 in August and has grown taller than her sister! Five days later Per Ole and Kirsten celebrated the 20th anniversary of their meeting day with a romantic surprise trip on Cornucopia up the Hudson River, all arranged by Krissy. All four attended the seventh-annual Qualcomm Flarion Technology (QFT) family picnic, where Lin and Krissy showed their inner strength by winning fourth and fifth place in the mini-Nascar racing competition (proving that girls can be just as fierce as boys, if not more). In May QFT moved to a new office building in Bridgewater. All employees got offices; Per Ole a nice corner office with a view to the Bridgewater Mall.

House Projects
- pool renovation
Although we already signed a contract with Anthony & Sylvan Pools in 2006 for a total renovation of our pool, the project didn't begin until June. The old deck was removed, then tiles, paint, and plumbing until only the raw concrete shell was left. Then the reconstruction started: first a new band of tiles, then new pool light with LED and new plumbing with pumps and filter moved to the back of the house. With the old concrete gone, we had the opportunity to design a new layout of the deck with better use of sunny spots. After thorough research we decided to use a cantilevered style with colored concrete and slate-stamped texture from ACD. To create a Caribbean blue appearance we chose a white plaster and added a turtle - or two. In October the pool was refilled with 36,000 gallons of tab water - took 3 days. From June till October numerous subcontractors were busy recreating the new pool area, so we are looking forward to finally use it in 2008.
- sunroom
Knowing for years that we needed a roof over the patio area it wasn't until July 3rd that we settled for a solution: A Four Season's Sunroom. Planning, permits, and construction was done in no time without hassle - and before the summer was over we were enjoying a panorama view of our new backyard from our new addition. Even the slightest sun heats up the room enough for to enjoy a nice lunch with a view. Final steps for 2008 are tile flooring and new furniture.
- new roof
While installing the sunroom the roof was cut back, and since we already had experienced several leaks around skylights and chimney, we decided that a new roof was needed. All three skylights were eliminated and rotten plywood replaced. The house now has a totally leak-free roof that has been tested over the last few months of heavy rain.
Fall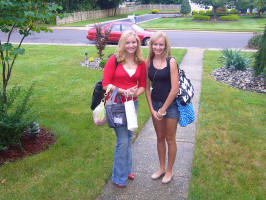 The school year started off well, with Lin in tenth grade and Krissy in eleventh at Communications High School (CHS). As a junior, Krissy is now beginning to think about colleges. Lin put her fashion expertise into use as a make-up artist in CHS's digital video club's production of "SAT: The Musical". After many months of planning, the DV club set out to shoot a movie scripted by two students, casting professional actors and shooting at several local locations, finally coming up with a finished production in December, ready to be submitted in various movie contests. Krissy was accepted into the National Honors Society, a club for academically successful high school juniors and seniors who serve as both volunteers and leaders in their community.
For Thanksgiving, the family took a road trip to Durham, North Carolina, to visit Nate and Parul in their new home. Eager to use her driver's license, Krissy volunteered to drive part of the 400-mile journey from New Jersey to North Carolina (which proved to be more of a challenge than she had anticipated, though she drove from Delaware to Virginia on the way down, and from Virginia to New Jersey on the way home, totaling nearly 500 miles of driving time.) Nate and Parul had just recently bought a beautiful new house in Durham, where they hosted Thanksgiving dinner - a feast of delicious food, including tofurkey!
Tea 4 U
- tea education
- tea parties
As a Tea Coach Kirsten decided to join the Specialty Tea Institute of Tea USA and go through the tea certification program. By July she had reached the highest possible level, Professional Level III in Oolong and Cupping and now offers consultations for tea businesses and restaurants. Together with tea colleagues world-wide, she attended the World Tea Expo in Atlanta, GA in June, and in September the 4th Symposium on Tea and Human Health in Washington, DC. Before the symposium she was delighted to be invited to entertain a Chinese Tea Delegation together with good tea colleagues/friends, Judy Larkin, Judith Krall-Russo, and editor Pearl Dexter of Tea A Magazine for whom Kirsten had written free-lance articles in the fall.
As the major part of the activities of Tea 4 U, Kirsten educated and a great number of girls and adults in the art of tea. The number of avid tea drinkers in Monmouth County is steadily growing, many of whom are frequent customers of Tea 4 U's selection of high quality loose teas!
Christmas
For the 10th year Kirsten, Per Ole, and Krissy helped out at the Danish Seamen's Church annual Christmas Bazaar, selling several thousand dollars worth of Danish candy. The family decided to spend Christmas Eve at home this year, embracing the Danish tradition of singing and dancing around the Christmas tree, and opening presents on the 24th. They then had all of Christmas Day free to do what they wished - and created a new tradition of going to the movies (this year, they saw National Treasure: Book of Secrets, a great family film and sequel to one of the family's favorite movies).
The photos from the Christmas Bazaar was kindly provided by Mike Beresford; more can be seen on http://www.flickr.com/photos/12195872@N04/sets/72157603229933049/



20

08
Lin, Krissy, Kirsten & Per Ole Kristensen