No. 3, Volume 2, December 1st, 1999
Believe it or not! Here we are again: The owners of New Jersey News – The Ocean Cronicle - just completed a very important board meeting and made a number of very important decisions:
1: The future of "New Jersey News" is saved, the newsletter will continue on a perhaps not regular basis, however, more frequently than previously!
2: The newsletter will appear on the family home page: www.kris.dk which has also had a brush up with up-to-date photos, useful links and other family information.
3: The newsletter will be in English (American) following the country of origin. (For those of you who would have preferred to read the newsletter in Danish: Be happy that we are in the U.S. and not in China anymore!)
As recently appointed "Editor in Chief" of this family magazine I, Kirsten, got the task of catching up on family happenings since last issue, which was (yes, you are right – you have NOT been deleted from our mailing list and we still have the same address): No. 2, August 20, 1998. This means that I have a little more than 15 months to catch up upon, so here we go ….
The saying "No news are good news" has never been more true concerning our family. We are all doing wonderfully well. Everybody is happy, healthy, and occupied with our individually keenest interests.
Per Ole still has the same fulfilling job with lots of hopes and worries since he started in Golden Bridge Technology. However, the company has changed it's logo a couple of times now looking like this

I had the pleasure of being able to add a new title to my Data Sheet last year. On November 18th, 1998 the mailman rang the doorbell and delivered a box with 15 newly printed books called: "Når Penelope rejser med – udstationering for hele familien" (When Penelope travels along - expatriation for the whole family), by Aase Gullestrup, Kirsten H. Kristensen and Mette Weber. A long-time goal had been reached: Being an author. The book has led to several interviews – mostly in international Danish magazines, and a speech in the Swedish club, SWEA in New Jersey. The book is available at Gyldendal, (ISBN 87-00-34638-1) at the price of DKK 198.-.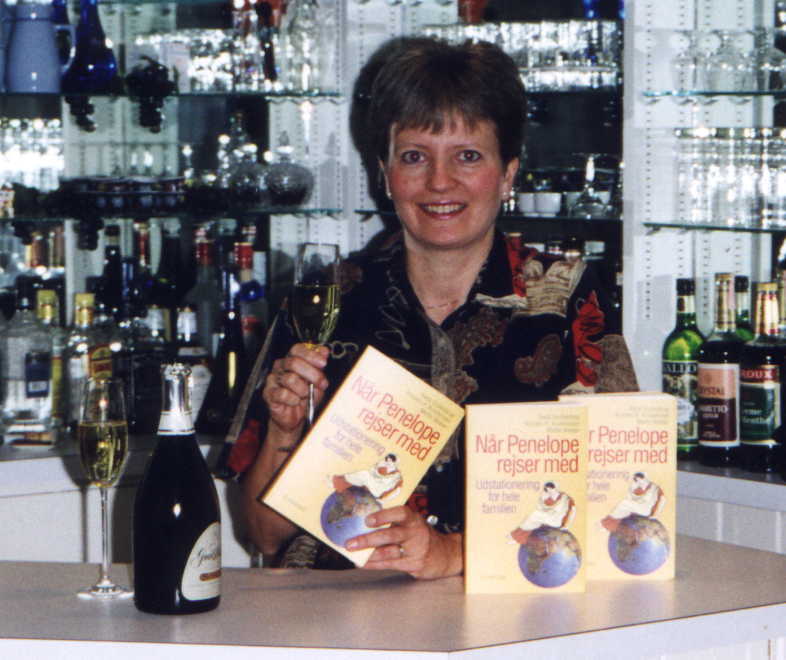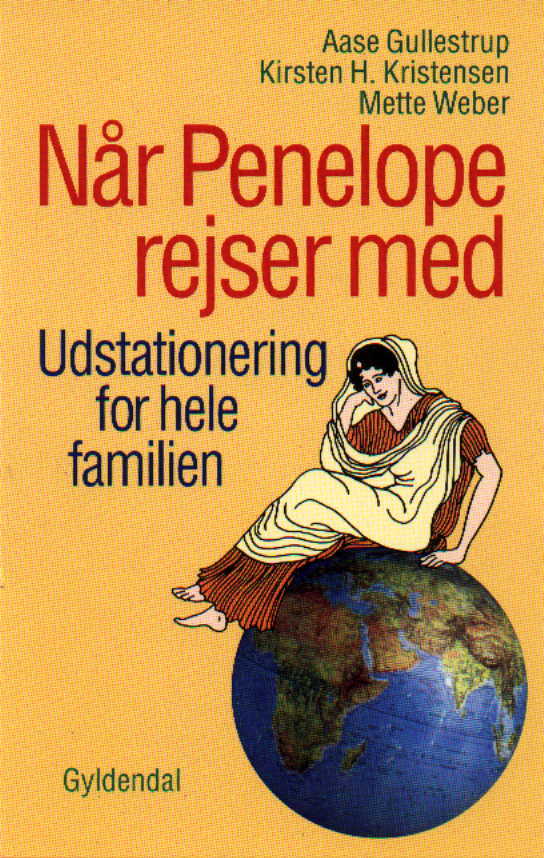 However, one book makes no revolution, so the next is already on it's way. This time with quite a different subject and with only one author based on authentic interviews with a Chinese-Vietnamese refugee in America. To challenge the author furthermore, the book will be in American English. Deadline will be sometime in the next millenium …
Apart from writing books I spends hours reading the more than hundred American books that have been purchased on the Friday-Saturday garage sales in the neighborhood. My favorite author for the time being is Danielle Steel. By now I have been able to find 34 of her 47 published novels and tapes on garage sales for $1 or less. The American title of a house wife, "homemaker", suits me pretty well, and our home and inventory have been added several treasures from my weekly garage sales, i.e. teddy bears, toys, Christmas ornaments, jewelry, designer clothes and shoes, furniture and lots of other nick-nacks.
Maj is doing extremely well in school. It took her less than a year to master the new language and get adjusted to the new environment and class mates until she took a lead and scored as the #1 in her class for the Stanford test in April, 1999. For 3rd grade she has been put in an enriched class for math and is very close to a total score of 100 points in every single subject in school, her parents being of course very pleased and proud.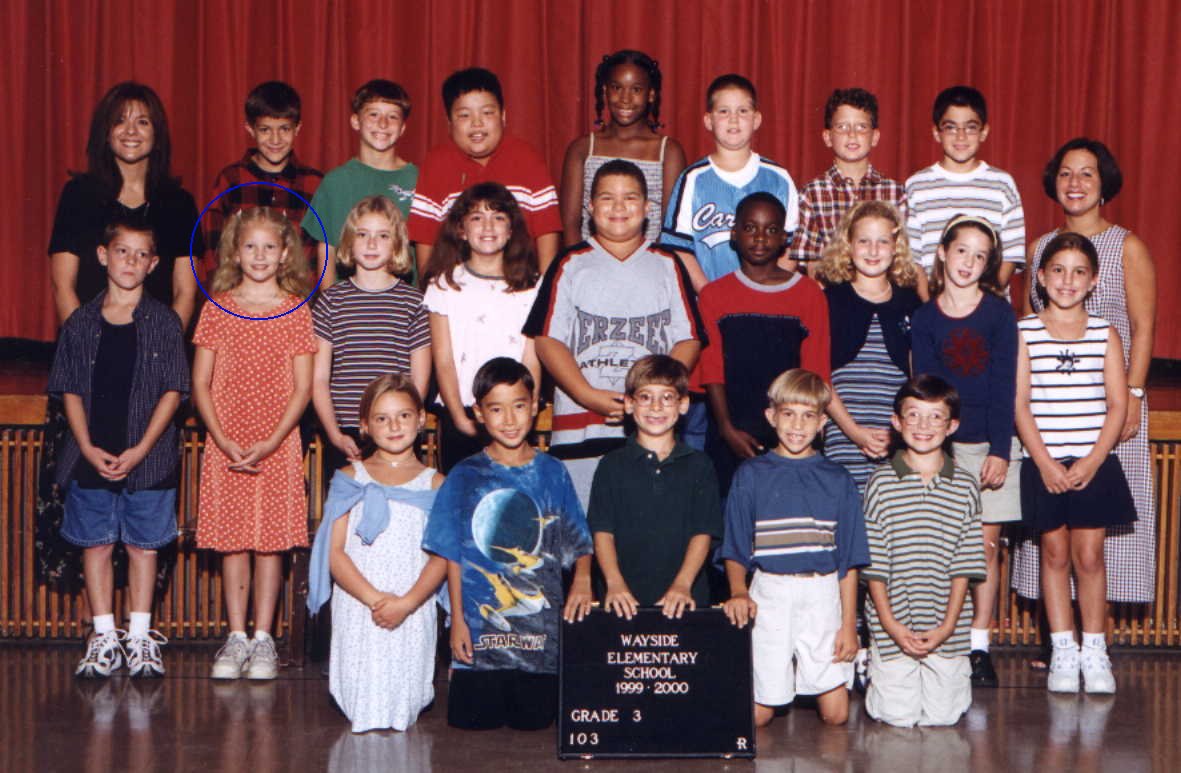 Lin suffered a deep academic culture chock when being transferred directly from her Danish kinder-garden into the American kinder-garden school (børnehaveklasse) 2½ months before ending the school year. She managed to pick up most of the letters, numbers and spoken language before beginning 1st grade, however, reading in English was a subject she just did not believe she would ever be able to do. Her teacher suggested a program of extra help every Monday afternoon for ½ an hour, and within weeks she just broke the "code" and started reading everything! Newspapers, magazines, books, signs, nutrition facts on food cartons, etc. At the same time she surprised everyone by being a super speller and hardly had one single word misspelled in 1st grade! Her 2nd grade is a most happy year. Wayside school got at new 2nd grade teacher, Mrs. Konefal, and Lin adores her. Most of Lin's spare time is spent playing a teacher in front of her play chalk board, and we can easily see who she is copying. Mrs. Konefal speaks very fast – so does Lin – in fluent American. Actually Lin prefers American to Danish and only speaks Danish if she is forced to do it. She even speaks Danish with an American accent and both children dream in English!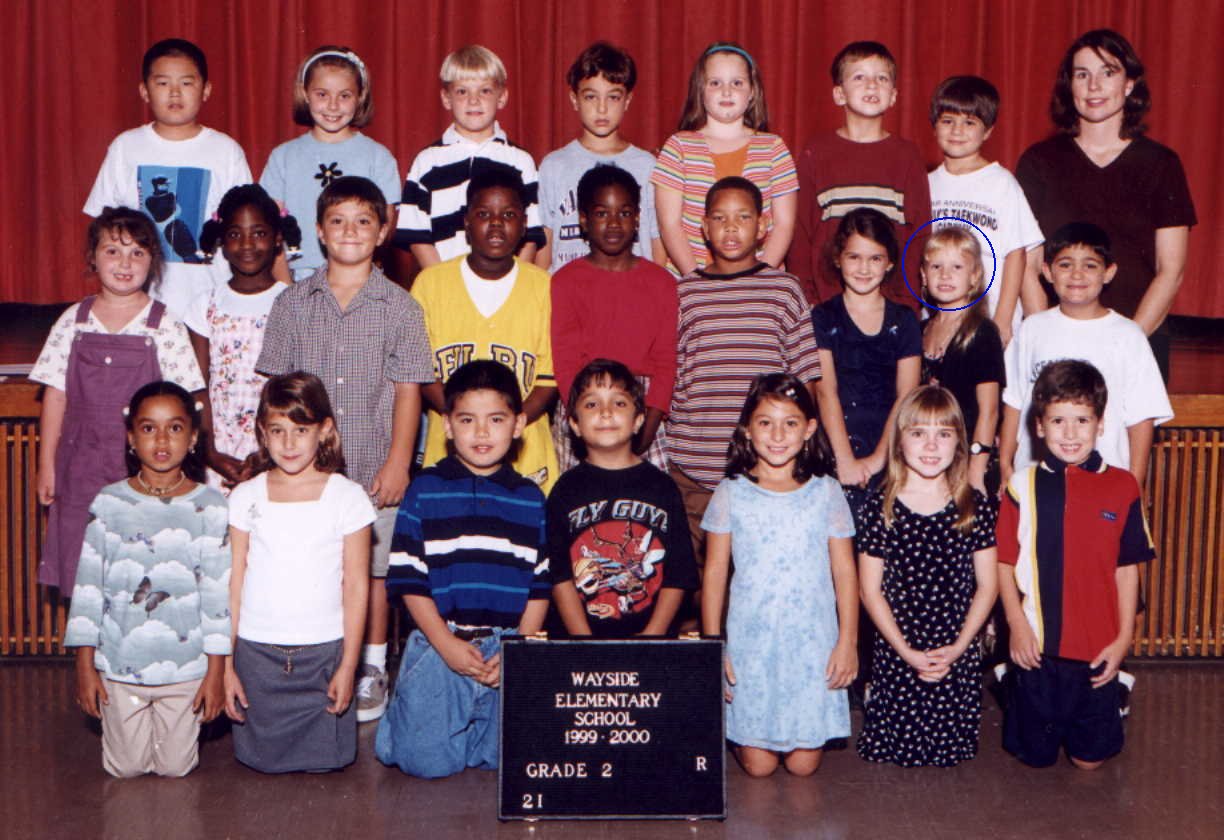 Apart from the four of us Kristensen's we have extended the family by another daughter, although not living at our home. Through the SOS organization in Denmark we sponsor a Chinese girl, Tian-Qing Sun in Qiqihar (Northern China). Tian-qing is one month older than Lin (to Lin's regret – she had so much wanted to be a big sister!) Tian-qing's parents are both dead and she was raised by her grandparents until she was about four years old. Since her grandparents are not well enough to take care of her, she now lives in the SOS Children's Village and seems to be a happy little girl. We write to her occasionally and also receives letters from her Village Mom and drawings from herself. Per Ole's colleague, Connie, helps us write to her in Chinese, which is a more direct way to have contact with her.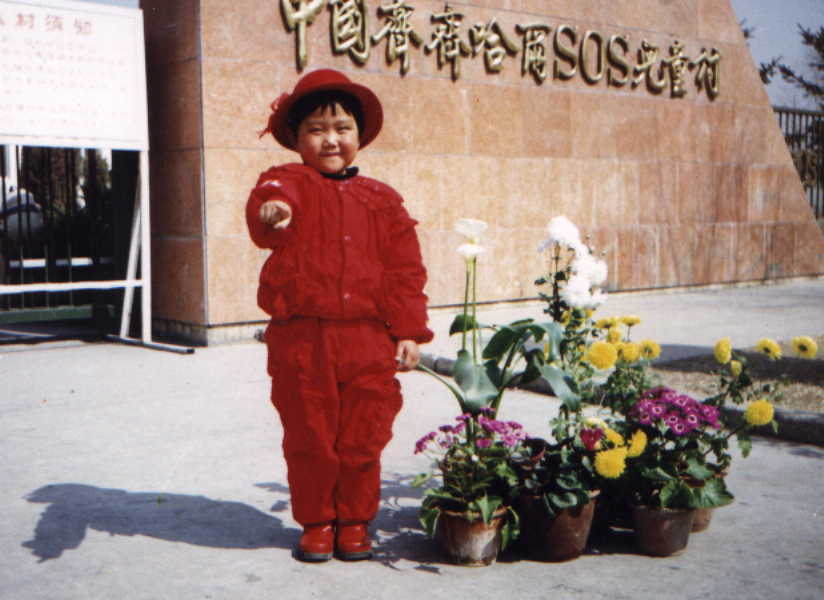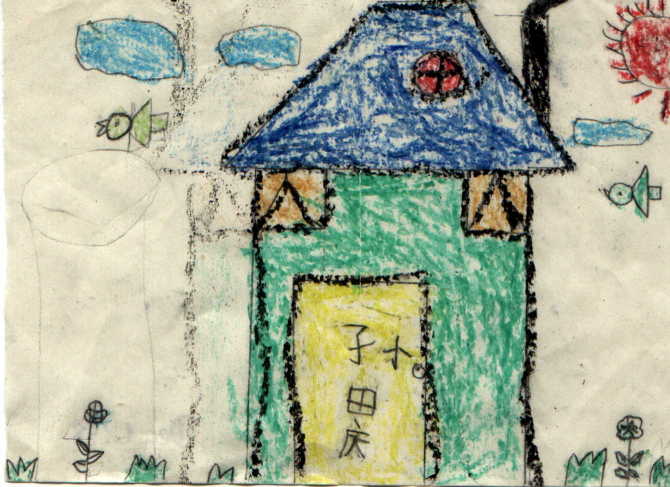 Being very happy with our family increase we had to suffer a big loss last December, since 'morfar' (my dad) died three days after his otherwise successful heart operation at the age of only 71. In a rush I had to go to Denmark which was not so easy without planning and only four days before Christmas. However, good neighbors and friends helped us out, and my mom and I succeeded in arranging a memorable and beautiful funeral in Værløse on December 22nd, after which my mom joined me on my trip back to the States to celebrate a suddenly sad and frustrating holiday season. However, the children were very happy to have 'mormor' over for Christmas.
Uncle Jørn spent a few days with us over New Year which we (the younger grown- ups) decided to celebrate in Martell's TikiBar. The party was fine, but somewhat different from what we usually experience in Denmark or Hong Kong: All fireworks was substituted by a ceiling filled with lots of beautiful balloons in a net that was cut at 24.00 hrs. The crackers were the balloons being jumped upon while dancing and singing. But after all, living in wooden houses, balloons are a lot safer than firecrackers and fireworks.
In mid-January I returned to Denmark with my mom and helped her put her house up for sale, reorganizing economy, etc. and started looking for an apartment in Elsinore (Helsingør) where she now lives on her own, quite comfortably, however, lonely and being more and more marked by her Alzheimer's Disease. We all feel very thankful that I have my godmother, Aunt Iris, and her family close by to help look after my mom.
In April we were pleased to have a second time visitor, the children's godmother, Nina, who spent a few weeks sightseeing, shopping and redecorating Lin's room. Nina's first visit was the previous September where Maj had her room redecorated. Since we just bought our second car, the Acura, we were free to do some sightseeing farther away in other states, and ended up in Pennsylvania in the Lancaster area and visited some of the Amish farm people. The Amish people originally came from Belgium/Germany/Russia, and have succeeded living as they did when they first arrived in the U.S. more than 150 years ago. This means living without electricity, no computers, TVs, or other of all that stuff we all have gotten so used to. Even their clothing is the same as back in history which is why it is so easy to recognize the farmers with their "uniforms": Black trousers, blue shirts and straw hats behind the horses and the plough in the fields. The Amish farm products are very popular since everything is 100% organic. With no TVs or computers in the house the family has a lot of children, and the women enjoy quilting over a cup of coffee.
Even though we do not like to complain about the usually very nice weather in New Jersey, our summer this year has been incredibly hot and humid, often more than 100 deg. F (40 grader C) and very long. Uncle Jørn's Gitte stayed with us for six weeks and most of this time we only felt like swimming in the pool or staying inside in the air-conditioned areas eating ice creams. Maj was in Denmark for 5 weeks, the first two weeks visiting her friend Mette and friends/family, the remaining three weeks in the Danish summer school (Dansk Samvirke) in Funen trying hard to learn the art of spelling and writing in Danish and learning about the Danish Medieval Age. Among the 200 other international Danish children she found herself some good friends, and was very proud to be able to take the SAS flight to and back from Denmark on her own, only 9 years old.
Our summer vacation this year was - in celebration of our 10-years wedding anniversary - spent in Paradise: Grand Cayman in the Cayman Islands. We all fell in love with snorkeling in the warm and clear Caribbean sea exploring the corals and thousands of beautifully colored aquarium fish, the clean, white beaches, exotic plants, birds, etc. Our vacation album speaks for itself: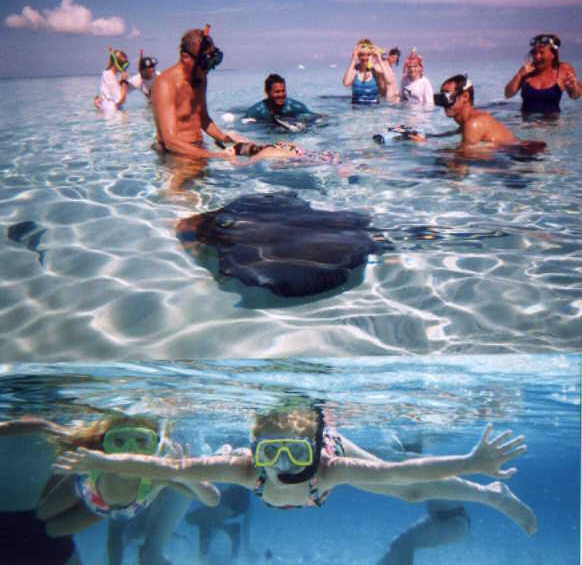 For you in Denmark, it has been possible to follow the life of our children on both radio and TV. Just before school ended this summer, Jimmy Stahr from DR-Børneradio interviewed Lin and Maj in their school classes, in our shopping center and followed them around for half a day to get the feeling of how it was to be a Danish child in America. The program was broadcast on July 17, 1999 but lasted for only 5 minutes. On September 19, 1999, Maj was lent out to two young TV reporters from TV2 who made a program about a young Danish girl in New York. Maj especially enjoyed the helicopter ride over the Statue of Liberty and her trip to the Empire State tower. The program was broadcast Tuesday, November 23rd at 5 p.m. Danish time. We have not seen the program ourselves yet, however, TV2 has promised to send us a tape.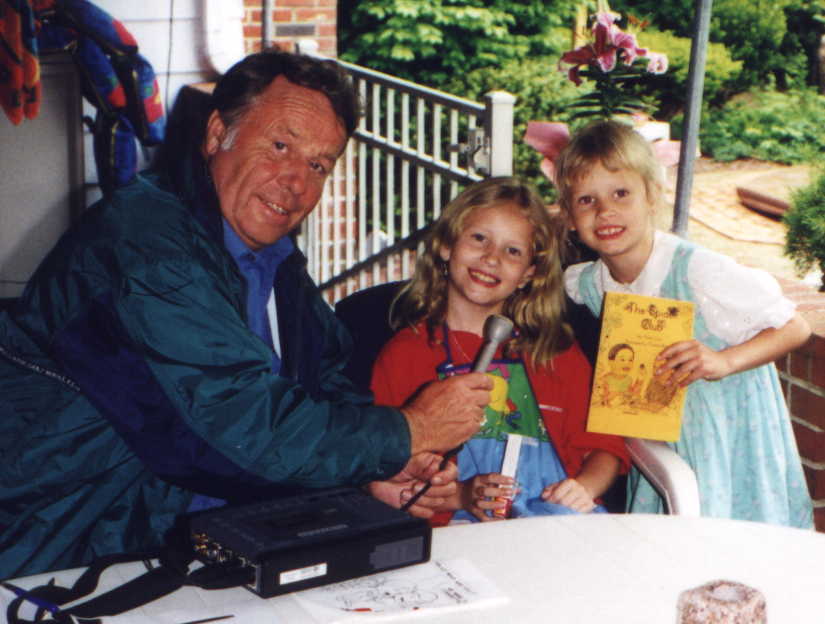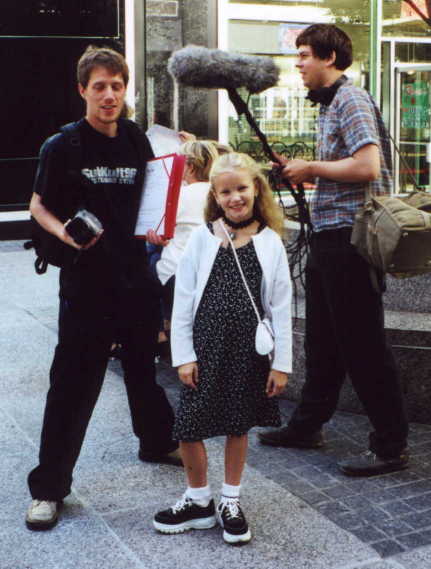 On the same day Maj was running around in Manhattan with the Danish TV guys the rest of the family had the joy of listening to a concert by the "Vesterbros Ungdomsgård" in the Danish Seamen's Church in Brooklyn. The choir was in New York as a part of the Danish Wave. The concert was recorded live and the double CD was recently available on the market, a.o. in the Danish Seamen's Church where we purchased the wonderful and very Danish teenage music (Plejer er død/VUG live i NYC) for only $12 including our own applause.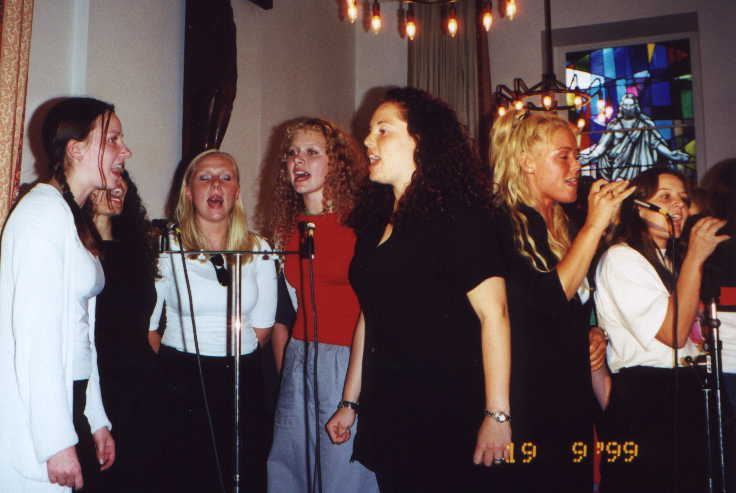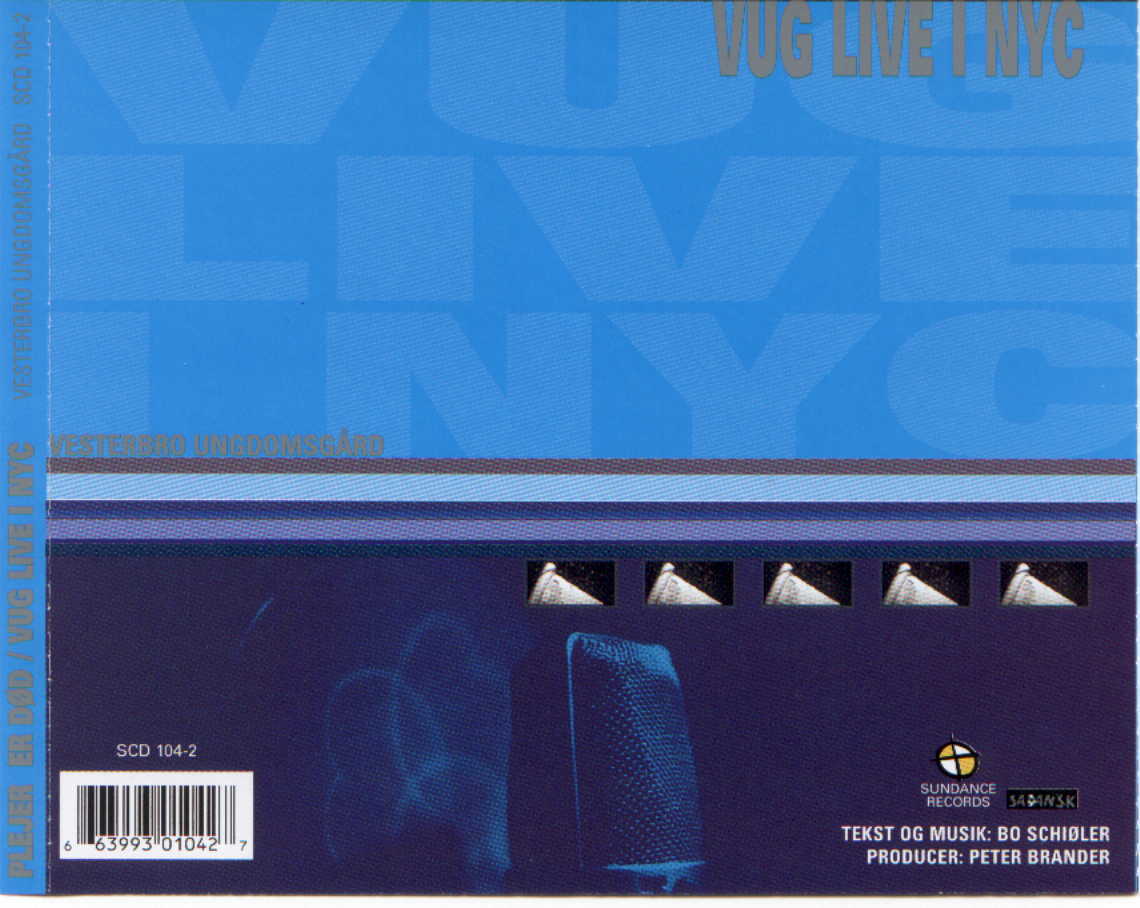 This fall New York had a lot of arrangements in celebration of the "Danish Wave", a program to make Denmark more well-known to the New Yorkers. One of the first arrangements was showing the Greenland movie "Hearts of Light" (Lysets Hjerte) which was shown in the Lincoln Center in the presence of the main character from Greenland, the instructor and the producer from Denmark. Showing a Danish film in New York is something, but showing a Greenland movie is a lot more rare. The main character entertained with some Greenland songs after the film and a question section. A further discussion of the movie and life's other aspects over a cozy dinner with a dozen other Danish wifes in one of New York's fine restaurants made the evening even more memorable (and late).
The final of the Danish Wave was the Carl Nielsen violin contest & concert in the Lincoln Center shared with the Danish Queen Margrethe II and Victor Borge. The three young winning violinists (Asian and East-European) got their prizes a.o. by Mads Øvlisen from Novo Nordisk. Unfortunately the center was full (more than 3,000 people) so we did not have a chance to meet the celebrities in person. The Danish community in the New York area is a lot larger than in Hong Kong and the consulate is not as social as in other expat areas. In Hong Kong we had the chance of meeting and being introduced to both Queen Margrethe and Prince Joachim in person.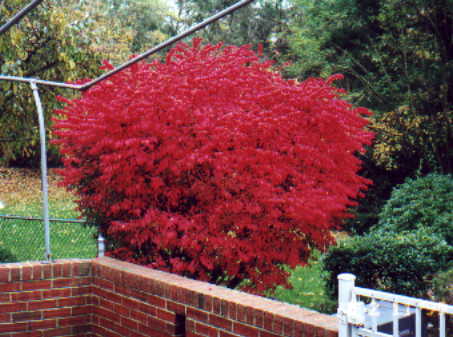 Fall in New Jersey is the most beautiful natural experience I have ever seen. Since the state has so many different trees, especially a large variety of Maple trees, and adding our usually nice and sunny weather with wonderfully blue skies, the colors of fall are indescribable. To celebrate fall – which also means: Harvest – gardens are decorated with scarecrows, straw bales, bundles of corn and when approaching Halloween at the end of October: Ghosts, witches, spider webs, and cut jack-o-lantern pumpkins. Halloween night on October 30th the children dress up (like the Danish Fastelavn) and go from door-to-door to trick-or-treat (collecting candies in big buckets).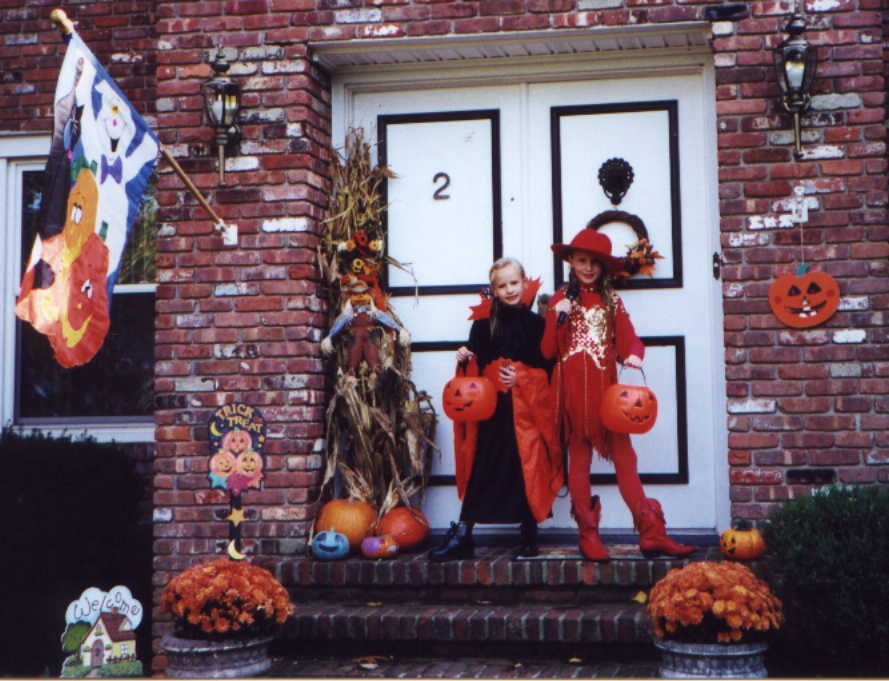 In November we were very pleased to have Maj's best friend, Mette visit us again. This time together with her mom, Lone, and younger brother, Mads. We stuffed our Ford minivan, called Waldo (Holger), and both families went to Washington to see the White House, Capitol, Arlington graveyard, the Kennedy's grave, the old Georgetown, and what else was interesting for the four children: squirrels in front of the White House, birds, Indian teepees, forgotten balls, and booths selling laser lights, sweatshirts etc. All seven of us had a good weekend before we drove through the five states to get back to New Jersey.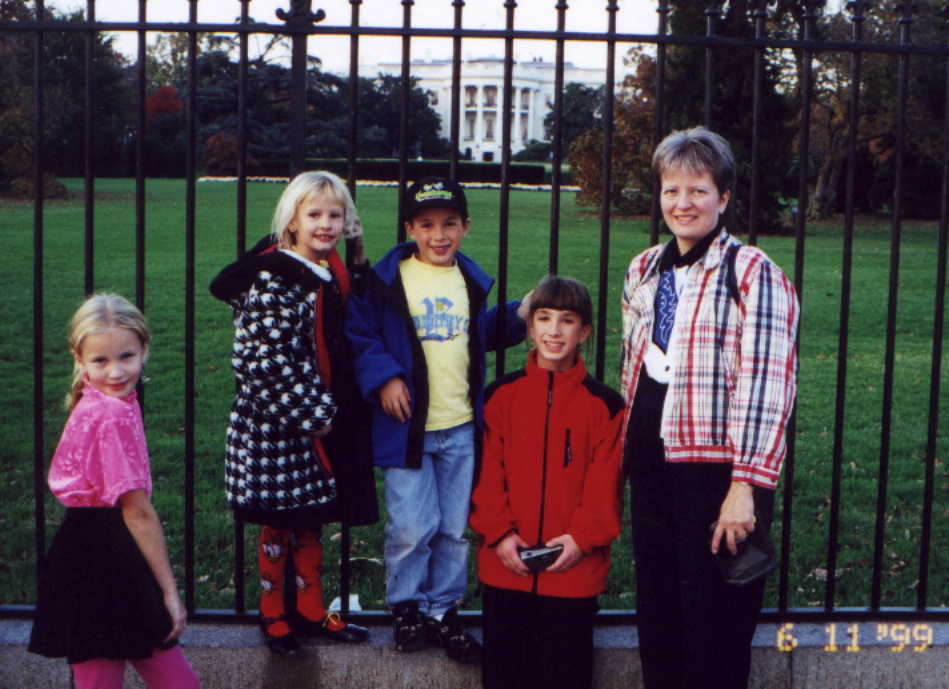 During the nine days they were here, apart from playing and shopping we had time to visit the Amish people in Pennsylvania (this time I had to buy one of the many beautiful quilts), go by boat to New York and climb one of the Twin Towers in World Trade Center (after reaching the 110th floor on the very top of Tower 2 in free air, Mads asked: "This is not a Twin Tower, where is the other one?" After a careful look down it was there!) Mads had his doubts about the height of the New York towers and had to compare and ask if it was right that he actually was in the highest tower. Every building in New York looks quite tall if you are only 6 years old! Even if I tried very hard, Mads was indeed very hard to impress. After seeing the Tiffany Jewel his comment was, "hmm ... Don't they have any bigger than that?" The Rockefeller Center with ice-skating people in the front and the Trump Tower was okay as long as we found 1 cent coins on the floor of the bottom of the picturesque restaurant, and Central Park fine, for Mads and I were the only ones that saw both the squirrel and the rat on the big rock! Before returning to Pier 11 for our boat ride back we had to visit the Plaza hotel for a peep at the extravagant tea-salon in the lobby and the restrooms with "French Maids" as Mette called the restroom attendants. A MacDonald's burger on Times Square was also a must before leaving the Big Apple with all it's beautiful lights after the sunset.
Before the Peitersen's left our family we were once again reunited in the marriage between Lin and Mads (first time was in Denmark when they were 3 and 4 years old). Mette and Maj had arranged everything including vicar, speech, rings, clothes etc. and Lin and Mads followed the play. The parents were witnesses to a real American wedding. (Unfortunately Lin and Mads agreed on divorcing the next day before he left for Denmark!)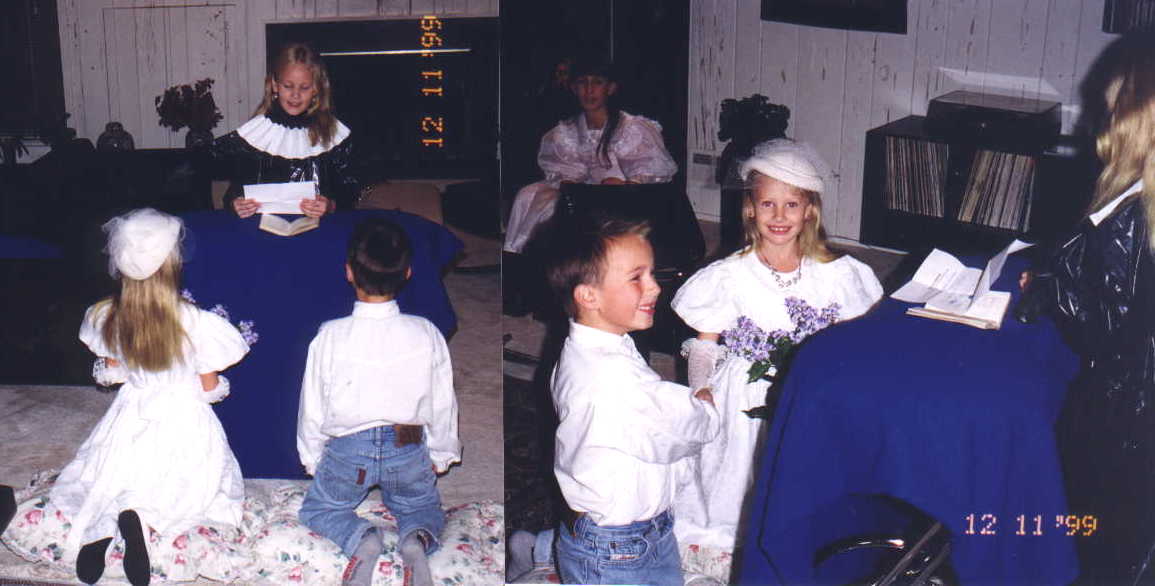 Otherwise our "visitors-appartment" has been occupied several other times this year: During Easter by Per Ole's cousin Gitte and her husband Sven Erik Skovgren, in June by Per Ole's parents, and in August by my godmother, Aunt Iris, who was also staying with her older brother Erik in Pitman a couple of hours south of Ocean. This gave us the opportunity to visit the nice, little, old town Pitman, and also an excuse for me to take my godmother for a little trip to Philadelphia in Pennsylvania.
One Per Ole's maybe not hobbies, but rather occupations, is "hanging on" the internet to explore as much as possible. With a credit card number we can and do buy lots of things this way: the Acura was found this way, our tickets for Canada, our hotel in Cayman Islands, computer items, dolls, CD's, books and recently also concert tickets. Per Ole gave a bid for tickets for the Elton John concert in Madison Square Garden in New York and we "won" two tickets at the price of $87 each. It was an amazing concert listening to this grand (old) man playing his piano for three hours in a row – no brakes – no warming up – just it! and in the middle (or rather in the front of) 9,998 other fans aging from 10 to 80 years. And so easy just to step up in the building from the underground (Penn Station) where the New Jersey train arrives every hour.
Usually November is Thanksgiving-month in America and we certainly celebrated the evening on November 25th with Danish friends sharing a 22 pounds stuffed turkey with all the traditional sidings, as yams (sweet, orange potatoes), corn, cranberry sauce etc. However, this year we had a real Thanksgiving, however, celebrated in Toronto on October 10th which is the Canadian date for Thanksgiving. Real Thanksgiving means all the family together, and for the first time in 22 years I was reunited with my Canadian family, cousins, their children and of course our. My aunt Bente from Denmark was even there with a friend, so we all had a wonderful day ending in a blessed dinner with turkey and sidings originating from both Denmark, Holland and Canada.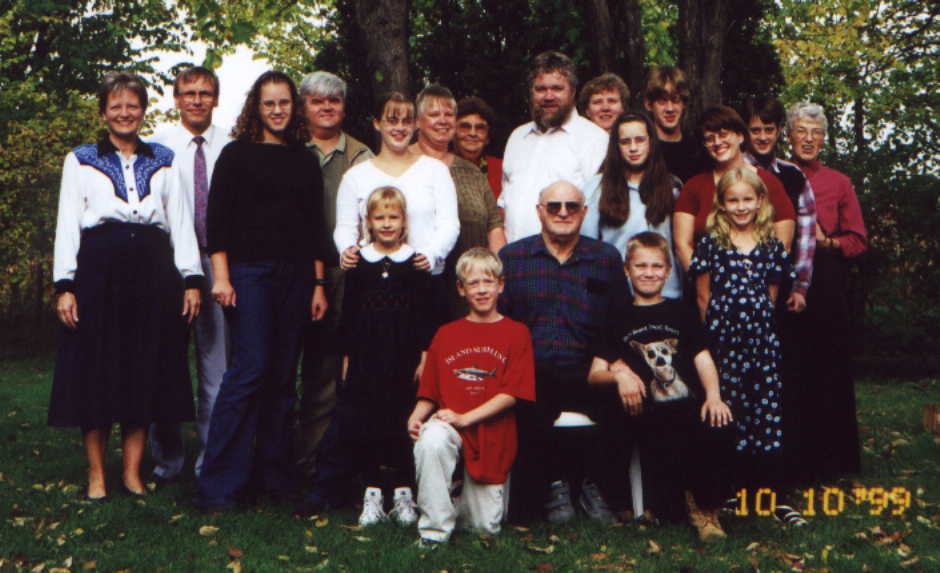 And now we are in the last month of this millenium: December. The most wonderful month of the year. Most of the American population loves Christmas – or rather the Holiday Seasons, since the Jews (of which we have quite a lot in New Jersey) celebrate their Hannukah in the first part of December, and the black Americans Kwanza on December 26th. Nevertheless every season whatever color or religion has it's bows, decorations, lights and presents and every shop is stuffed with decorations to enjoy and: Buy, buy, buy. And so does people. It is georgeous! Our "Garden State" which is the nick-name of New Jersey really shows it's gardens. People decorate houses and lawns with santas, reindeers, bows, nativity scenes (the birth of Jesus), and finally: LIGHTS around trees, bushes, and the entire house. Many houses are glowing with joy in the this dark season. This year a single light string is not enough around the roof and windows, it has to be strings with five lights hanging down like icicles all around the roof and house edges. It is a beautiful sight (Per Ole even talks about doing our house like it, too …), and at least one company is very happy: GPU Energy. This season is even better than the hottest summer month (due to the air-conditioning).
American Christmas trees are another chapter. In a local magazine the other day I happened to read about the traditional Scandinavian Christmas trees, which used to have real lit candles and live trees. My eyes almost dropped a tear: Will this be true? Are Scandinavians importing the American idea of artificial plastic trees with lots of flashing electric lights – and no real candles anymore? At least we – the Kristensen's in New Jersey - keep the very scary, dangerous, live Fraser fur tree with real lit candles. Of course with a bucket of water nearby.
However, to substitute the traditional tree the Americans have invented the most adorable, live-looking artificial trees in various sizes and species. But no matter how beautiful the fur tree looks, they decorate it so heavily that it wouldn't have mattered if it had been made of iron wire or cardboard. Considering the prices of each decoration easily amounting from $6-9 a piece, it must have taken years (or big money) for the families to collect a tree full. And even so, they still find a little space to hang this year's novelty from "Collectors Dream" (Americans are collectors of everything! Especially porcelain figures and other nick-nacks.)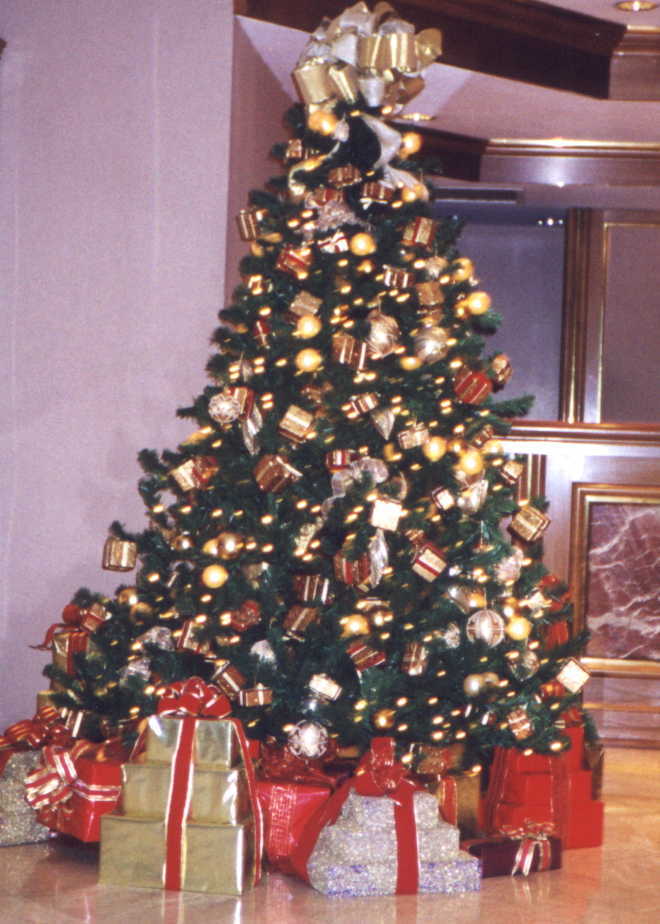 Again this year we will celebrate Christmas Evening, December 24th, in the Danish Seamen's Church in Brooklyn, New York, beginning at 4 p.m. with a Christmas Service, followed by a very traditional Christmas Dinner (flæskesteg og rødkål) and dessert (ris a'la mande). Maybe even Santa Claus will drop by this year, too. On Christmas morning, December 25th we shall open our own presents and enjoy a peaceful family day. On December 26th we will serve the well-known Danish lunch (julefrokost) for neighbors, which we intend to make a yearly tradition to memorize the Danish open sandwiches (smørrebrød). For New Year 1999/2000 we are still open for ideas.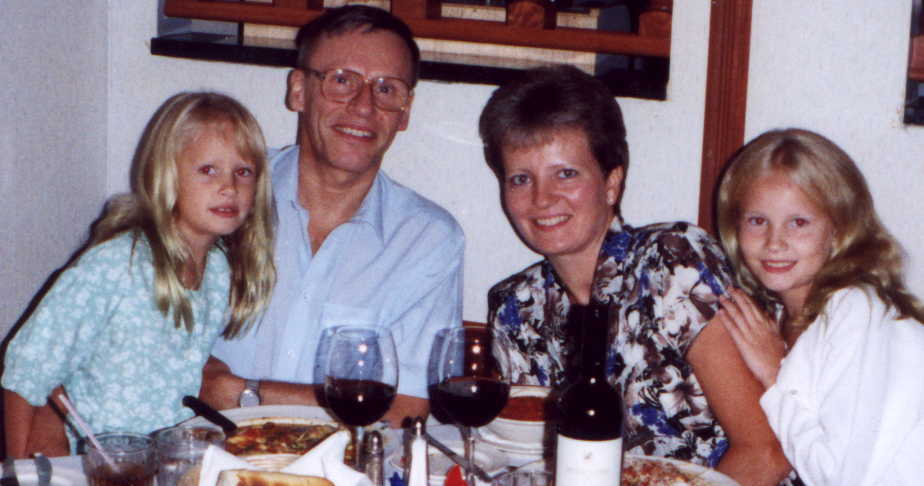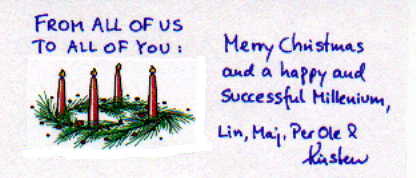 VISITORS since 12/05/1999